InFocus April 2016 - Volume 25 Issue 3

Contents
This month we look at how you can tell us when your details change, which is an important part of running a business. We also highlight the next 'Start Me, Grow Me' small business forum and check in with our new ASIC Registry graduates.
Partnerships – how to keep your details up-to-date
If your business name is held by a partnership, you may need to complete two transactions when updating partnership details.
If updating a partners name and addresses, you must complete the 'Change holder details' transaction in ASIC Connect.
If you are adding or removing a partner, you must complete the 'Change partner details' transaction in ASIC Connect.
Step by step user guides are available from our support page. 
Business name partner – adding or removing
In some instances you will not be able to add or remove a partner from a business.
If your business name is held by a joint venture partnership and those details change, you will need to transfer the business name to the new holder. This is because changing the partnership details of a joint venture changes the structure of the business.
Find out more about transferring a business name. 
Address options for home-based businesses
When registering your business name, you must provide a service of documents address and principal place of business address.
Your service of documents address can either be a physical street address or postal address in Australia. ASIC will send official notices to your service of documents address. It will appear on our Business Names Register.
Your principal place of business is the primary location where you carry on business. It must be a physical street address in Australia.
Find out more about business addresses and how to update your address details.
Update your company details now, without the need for pen and paper!
Updates to company details can be made by officeholders online. Changes you can make include:  
Change to company details
Change company name
Application for voluntary deregistration
To use our online services, just sign up for an account. Follow these steps to register:
Go to our company online services.
Read and accept the ASIC Electronic Lodgement Protocol (ELP).
Enter your ACN, personal details and corporate key. Don't have your corporate key? Request one now.
Choose a username and password.
Find out more about registering for online access. 
Where does ASIC send company correspondence?
If you've registered for online access, correspondence such as your annual statement is sent to you online.
Otherwise, your correspondence is sent to your registered agent or contact address. If a registered agent or contact address is not available, we will use the registered office address provided.
You should check your address details are up to date to ensure you receive our correspondence. To check your details:
Log in to your account or
Search our registers for your company details.
If your details are incorrect, you should update them using our online services. 
Need help with our online services?
If you need assistance when lodging online, there are step-by-step user guides available for most common transactions.
Access company officeholder help. 
ASIC Registry's quality management system recertified  
Recently ASIC Registry's quality management system was recertified (under the ISO 9001:2008 standard). The achievement reflects our ongoing commitment to improve our services for you.
This milestone also marks 22 years of certification. In 1994, we were the first private or public information management organisation in the world to achieve certification under AS3901/ISO9001.
If you have any feedback or suggestions for improvements, email us.
Start Me, Grow Me Small Business Forum – Fitzroy VIC
Start Me, Grow Me Small Business Forums have been described as 'a one-stop-shop for business resources.'
The next forum is being held in Fitzroy VIC on Wednesday 18 May 2016 at 6.00pm.
Come along and get access to assistance, programs and information from different government agencies.
In addition to ASIC, agencies including IP Australia, the Australian Taxation Office and AusIndustry will present at the forum.
Five minutes with …  Nav Singh and Antonia Prestipino, 2016 ASIC Graduates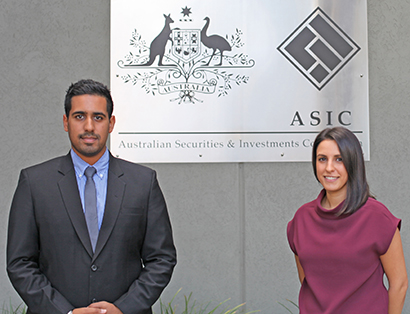 Every year, we offer recent university graduates the opportunity to join our Graduate Program. The program allows graduates to experience a number of different teams within ASIC and a chance to put their academic learning to use in a real world context. Nav Singh and Antonia Prestipino are this year's Registry Graduates.
What did you study and what did you enjoy most?
Nav: I studied at Monash (Clayton) and completed a double degree of Commerce and Law. My majors were accounting and company/taxation law. The opportunity to join different sporting teams was the highlight for me. I really enjoyed socialising with other students from different faculties.
Antonia: I completed a Bachelor of Commerce at the University of Melbourne, majoring in accounting and finance. I enjoyed my accounting subjects and the few law subjects that I completed throughout the degree. Meeting many new people was a great aspect of university as well. 
What are you currently working on at ASIC?
Nav: I'm completing my first rotation in the Customer Contact Centre (CCC). At the moment, I'm involved in improving some of our knowledge resources and procedures to help answer customer questions.
Antonia: My first rotation is with Registry Services. I'm reviewing our internal procedures with a focus on identifying areas for improvement.
What did you find interesting about ASIC's Graduate Program?
Nav: The grad program gives us exposure to a range of teams across the Registry business linked to our area of study. The ongoing professional development and training that ASIC provides is what makes the grad program so appealing.  
Antonia: The rotations across different areas of the business is an important aspect of ASIC's graduate program for me. I think gaining exposure to different work types is invaluable at the beginning of any career, and is a chance to try different types of work before specialising. 
An ideal weekend would be...
Nav: seeing the Geelong Cats have a win; followed the next day by brunch with friends and a movie.
Antonia: Getting outdoors for a hike on a sunny day and spending time with my family and friends.
What's the most impressive place you've visited?
Nav: Definitely Niagara Falls in Toronto, Canada. I really enjoy scenic locations and the waterfall has set a benchmark that will be very hard to beat.
Antonia: This is a tough one, but I'd probably have to go with Positano on the Amalfi Coast of Italy. The scenery is truly amazing, especially when walking along the 'Path of the Gods' which provides views of the whole coast.