InFocus April 2017 - Volume 26 Issue 3

Contents
Three things you should do before closing your company
One of the most common questions we're asked is 'what do officeholders need to do before closing their company?' To keep it simple, here are the three key things:
1.   Ensure your company has no fees outstanding
If your company has any fees outstanding, we'll automatically reject your deregistration application. You can check your current account balance online.
2.   Ensure your company meets all the criteria for deregistration
Your company must also meet the deregistration criteria which include, all members agreeing to deregister and the company's assets must total less than $1000. See our content on voluntary deregistration for the full list.
3.   Apply for deregistration at least two weeks before your annual review date
Finally, you should apply for deregistration at least two weeks before your annual review date. If you don't, your annual review fee will be charged and you'll need to pay it before the company can be deregistered.
If you are planning to deregister your company, we recommend you apply as early as possible.
For more information about closing your company and what you need to do, visit our deregistration page.
Sick of receiving ASIC mail that isn't yours? Find out how to stop it 
Businesses frequently change where they operate from, so it's common to receive mail at the wrong address.
If you're sick of receiving mail from ASIC that's not for you, it's easy to stop.
Simply write 'Return to Sender – Company no longer at this address' on the envelope and mail it back to us.
If you're a business professional (e.g. an agent or an accountant) and you're still receiving mail for a business you previously represented, contact us online and let us know you withdraw your consent. Use the following wording: 'I withdraw my consent for <company name> to use my address'.
Once we are notified we will update our register to ensure no further mail is sent to you. Mail sent to the wrong location is not only frustrating for you, but wasteful and expensive so we appreciate your help.
To make sure that your company's mail goes to the right place, use our online services to keep your addresses up to date. Visit Company addresses to learn how.
ASIC attends 2017 Corporate Registers Forum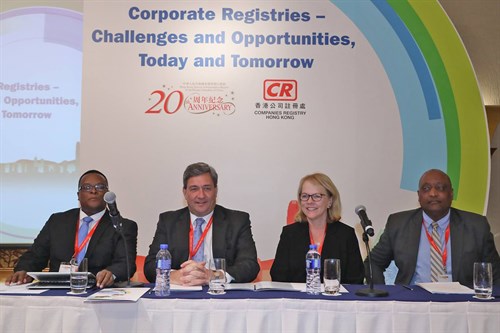 It does not matter where you are in the world there are agencies similar to ASIC that look after corporate registries.
ASIC is a member of the Corporate Registers Forum (CRF), an international not-for-profit organisation for administrators of corporate and securities registers. Rosanne Bell - ASIC Registry Senior Executive Leader, recently attended and presented at the 2017 Forum held in Hong Kong.
When discussing the importance of the forum, Rosanne said, "ASIC's Registry strives to be amongst the best and the CRF is an opportunity for us to learn from other world class registers. The forums are also an opportunity for us to share our experience and knowledge with nations developing their capabilities".
Rosanne went on to say the forum is "such a diverse group, with representatives from more than 60 countries: Singapore, New Zealand, Hong Kong, and the UK, just to name a few. While Australia's business registry is unique– it's amazing to hear the similarities. It doesn't matter where you are in the world we all face similar challenges around increasing compliance and data quality, moving online, opening up our registers and adding value to our economies."
Reminder about scam emails
As we have highlighted in previous editions of InFocus, there are a range of scam emails targeting ASIC customers. Scammers pretending to be from ASIC are emailing Registry customers asking them to pay fees and give personal information to renew their business name or company.
These emails often have a link that provides an invoice with fake payment details, or will infect your computer with malware if the links are clicked.
If you think you have been sent a scam email, we encourage you to visit our scams targeting ASIC customers page which provides useful information on what to look out for.
Insolvency law reforms… are you ready?
The first round of insolvency reforms were implemented at the beginning of March 2017.
The reforms improve the powers available to ASIC in regulating the corporate insolvency market and promote public confidence in Australia's insolvency sector.
The reforms:
align the registration and disciplinary frameworks that apply to registered liquidators,
promote a higher level of practitioner professionalism and competency, and
enhance transparency and communication between insolvency practitioners and stakeholders.
Regulatory Guide 258 Registered liquidators: Registration, disciplinary actions and insurance requirements (RG 258) has been issued to assist those impacted by the change.
The guide explains:
how to apply for registration as a liquidator, including the requirements a person must meet to become a registered liquidator,
the renewal process,
the disciplinary actions that a registered liquidator may be subject to, and
our policy on adequate and appropriate insurance.
Further changes as part of the reforms will take place in September 2017.
Don't become a victim of director fraud
ASIC's MoneySmart website has released guidance to help investors avoid becoming a victim of director fraud.
Director fraud occurs when a director of a company takes investors' funds and uses them for personal gain, rather than using them to grow or run the business. 
You can minimise your chance of loss by researching the company you are dealing with before you invest.
We recommend you look into the company and its directors. You should also search our professional registers and check the list of companies you should not deal with.
There are a number of warning signs that indicate something is not right with the company you have invested in. These include:
it's unclear where raised funds are being used
no updates on research and development activity
the company is paying large consulting or service fees to related parties
the company accounts have significant expenses that are unusual or unexplained
the company has taken on loans, asset sales or purchase agreements with related parties where there is no clear business purpose or benefit
Find out more on our MoneySmart web page on company director fraud.