InFocus August 2014 - Volume 23 Issue 7
Contents
This month discover how we're helping small business
ASIC's Registry is committed to helping small business, and making it easier for you to do business.
Our Registry business is evolving and our focus is predominantly on companies and business names. So we've combined our Business Names Reform Update with our InFocus e-newsletter to create a single e-newsletter - making sure we're reaching all of our customers.
This month we're pleased to let you know about a number of new initiatives that will simplify your dealings with us. We recently launched a new smart phone app for small business, we have improved the customer experience through upgrades to call centre technology and later this month we will be releasing new YouTube videos describing some of our most popular business processes.
In this issue of InFocus, we also look back on the 2013-2014 financial year and some of our key achievements.
Coming soon! New Registry videos
Later this month we'll be releasing a range of new YouTube videos.
Our videos provide short, sharp and up-to-date information. Topics covered include:
Registering a business name
Renewing a business name
We'll also be launching video tutorials that visually step you through a range of transactions in ASIC Connect.
Further updates will be provided in InFocus and on our website.
Our new improved YouTube channel is another way we're making it easier for you to do business with us.
Looking back at the 2013-2014 financial year
The 2013-2014 financial year was a successful one for the Registry, most importantly we delivered 100% to our Service Charter.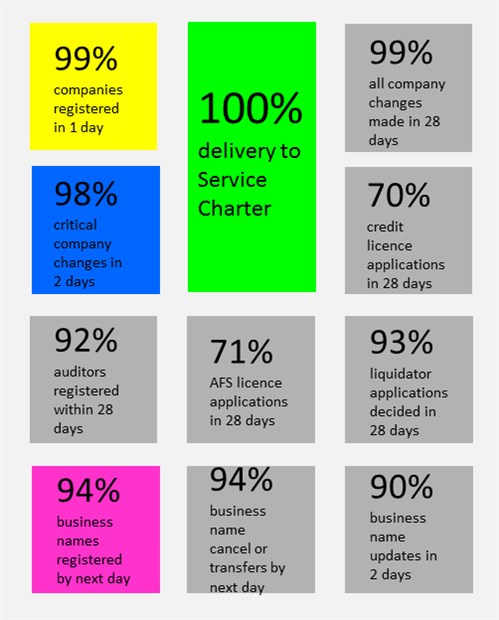 In the last financial year we also delivered some key customer service improvements:
We refreshed the business names section of our website, making it easier for you to navigate and find information.
AUSkey was introduced into ASIC Connect, allowing you to use the whole of government sign in, instead of a username and password to access ASIC Connect services (if your ABN is recorded on the register).
We launched our first smart phone app - NZAUConnect. The app gives you the ability to search free company information on the go from mobile devices.
Over 200,000 ABNs were added to the Business Names Register, enabling you to identify the legal entity behind a business name.
Our call centre technology was upgraded, including improved menu options to get you to the information you need faster and the ability to request call backs during busy periods.
We increased our presence on social media, including Facebook, Twitter and YouTube.
Do your homework with our new app
Last month, we launched our first small business app - ASIC Business Checks.
ASIC Business Checks helps business holders and consumers do their homework before entering a business relationship or transaction with another party.
It's important to do your homework as soon as you start thinking about having a relationship with a business, not after you find out you're chasing money from a business that doesn't exist.
ASIC Business Checks encourages business holders and consumers to:
Ask the right questions about a company, business and individual they're planning to deal with;
Check ASIC's registers and verify that information they've been given is accurate;
Seek ASIC's help if they need more information or the support of a professional business adviser; and
Report suspected misconduct to ASIC if they believe a company, business or individual is acting unlawfully.
ASIC Business Checks is available for smartphones and tablets now on iTunes and Google Play.
Improved customer experience for our call centre
If you need to call ASIC, you'll notice we have made some key improvements to enhance your experience.
Now:
In busy times, rather than staying on hold, you can request to have your call returned by us, while keeping your place in the queue.
Our call menu has been improved, making it easier for you to get the information you're looking for.
You also have the option to complete a survey after your call. This gives you the opportunity to rate your experience, and provide feedback so we can make further improvements to our service.
Jargon buster...Registry
Just what are we talking about when we refer to ASIC's Registry?
ASIC's Registry is responsible for providing the legal infrastructure that allows Australian business to operate. The Registry is responsible for registering and maintaining Australian companies and business name details. We also provide online search services for our public registers.
There are over 4.1 million companies and business names on our registers. The majority of our lodgement and searching services are available online. Registry provides ASIC's telephone, email, and web based information services, with our Customer Contact Centre responding to over 1 million enquiries each year.
Meet the regulators at the Small Business Festival Victoria - 11 August 2014
Get acquainted with key information, resources and services available to small business holders. Four federal government regulators - ASIC, Australian Taxation Office, Australian Competition and Consumer Commission and Fair Work Ombudsman will be on hand to help.
Presenters will cover topics such as registering a business, hiring employees and advertising your products and services, as well as some practical tips on how to protect your business interests.
This free event is part of the Small Business Festival Victoria and will be held on Monday 11 August 2014 from 10-11am at the Festival Hub, Federation Square. Book online at Business Victoria.
Five minutes with:Rosanne Bell, Senior Executive Leader, Registry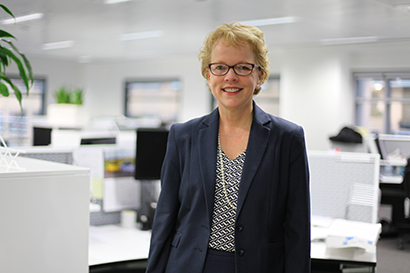 This month, we speak to the Senior Executive Leader of ASIC's Registry, who shares her commitment to delivering high levels of customer service, challenges we face this year and what she enjoys most about her role.
Daily: I'm glad to say that I spend a significant amount of my time working with customers and stakeholders to improve our business and ensure we are delivering quality services. For example, projects aiming to improve our online services, simplify our processes and cut red tape, or improving the customer experience when using our website or social media channels. Like most others, I spend some time each day doing emails, administration, talking on the phone, managing activities, supporting my teams, engaging on customer issues, and attending various meetings across ASIC.
The most enjoyable part of my job is: Two things: First, working with the people at ASIC, particularly our Melbourne and Traralgon Registry teams. Our staff are friendly, capable and motivated to deliver good public services. Second, making compliance easier for small business customers by cutting red tape and continually improving our services - it's a good feeling to know you've saved thousands of businesses time and money each time you implement a small change to fix a problem or make something better.
The biggest challenge for the Registry is: continuing to get more efficient, while maintaining or improving our service delivery at the same time. That's a positive challenge for us to prioritise our work and look at our current processes to see how they can be improved.
From the Registry this year you can expect: continued high levels of service and a strong commitment to making it easier to do business with ASIC's Registry. In July we upgraded our Customer Contact Centre technology, so that should further improve our customers experience over the phone this year.
My first job: was telephone sales at the Royal Guide Dog Centre in Victoria. I was a university student and being paid to talk on the phone seemed right up my alley!
Lessons I learnt from this job: there are three things that come to mind:
There are some really worthwhile charities and causes, supporting them is personally rewarding.
You get better results if you take a moment to look at things from the customer's perspective. I mean really taking your mind to their whole situation and what they need assistance with.
Working on the phones is a highly-skilled job that takes patience, professionalism, and a sound understanding of how people tick - hats off to every one of our customer contact centre staff.