InFocus August 2017 - Volume 26 Issue 7

Contents
Financial Statements - Start preparing now!
Public companies, registered schemes, 'large' proprietary companies, some foreign companies and AFS Licensees are required to lodge financial statements with ASIC.
Some financial statements are due at the end of September, so now is a good time to start preparing your documents.
When lodging the Form 388 Copy of financial statements and reports, you need to include supporting documentation. This includes:
an income statement
a statement of financial position at the end of the year, and
a statement of cash flow
AFS Licensees need to provide financial statements by lodging copies of:
Form FS70 Australian financial services licensee profit and loss statement and balance sheet, and
Form FS71 Auditor's Report for AFS Licensee
When you need to lodge will depend on who holds the licence.
The easiest way to lodge your statements is online. For more information about financial reporting and what you need to do, visit our website.
Case study - Hayley starts her business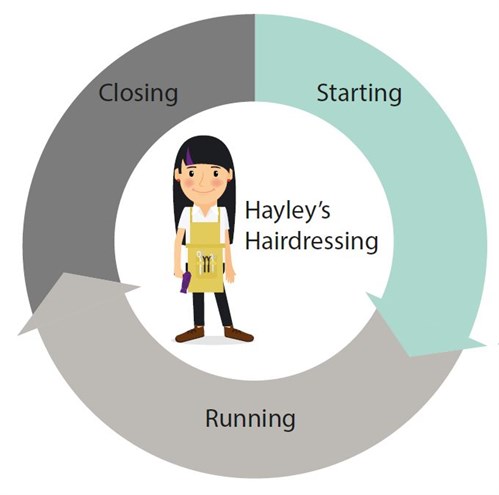 Here at InFocus we're always looking for new ways to provide content to help you or your clients meet their obligations with ASIC. In the coming months, we will include case studies to explore what business name and company holders need to do with ASIC.
This edition we would like to introduce Hayley. Hayley has been working as a qualified hairdresser for a couple of years and now wants to start her own mobile business.
Hayley heard from a friend that she might need to register a business name before she can trade. She searches 'register a business name' online and finds ASIC's website. Hayley learns more about business names and reads that she needs an Australian Business Number (ABN) to register a name before she can trade.
ABN in hand, Hayley returns to ASIC and creates an ASIC Connect account and applies to register a business name. The name 'Hayley's Hairdressing' is available, so she pays $35 to register it for one year.
The next day, Hayley gets an email with a copy of her record of registration and her ASIC key. She can now trade under her new name and get her business up and running.
For more information about registering a business name, visit our website. 
Setting up a charity or not-for-profit organisation is a great way to raise funds for a cause that you're passionate about. If you're thinking of starting a charity, you will need to contact a range of government bodies to ensure it is set up properly.
As part of the process you may need to:
The ACNC website is a great place to start. Their website has information on what you should consider when starting a charity and the steps you need to complete. 
During June, ASIC and the Fair Work Ombudsman (FWO) conducted a joint campaign to visit 50 businesses across Victoria. As part of the visits, ASIC provided information on the tools and resources available to assist small business; and the FWO reviewed time and wage records to ensure employers were paying their staff correctly and complying with requirements.
A key objective of the joint campaign was to educate employers about their responsibilities and arm business owners with the tools they need to build a culture of compliance. The campaign also aimed to assist businesses with first-time company directors.
Read more in our media release. 
2017 Small Business Webinar
In early June, ASIC joined other government agencies, small business owners and host Tracey Spicer to present an interactive webinar. The session covered what regulators are doing to level the playing field for small business. Current and future initiatives for each agency were also discussed.
You can watch the full webinar now. 
We are attending the following events in the coming months. Feel free to drop past for a chat or to ask a question.
Meet the regulators - 10 August - Melbourne - Tap into the free tools and resources available from four federal government agencies: ASIC, the Fair Work Ombudsman, the Australian Taxation Office and the Australian Competition and Consumer Commission. Presenters from these agencies will provide constructive advice on how to manage and grow your business. Book now.  
Plan, Prepare, Protect & Prosper - 11 August - Melbourne – The event will feature key tips, useful tools and resources available for newly-hatched innovators, entrepreneurs and business-intenders. Find out how to register and renew business and company names, types of business structures, tax essentials and obligations, and much more.
Franchising and Business Expo - 26-27 August - Melbourne - The Melbourne Franchising and Business Opportunities Expo gives people the chance to talk face to face with franchisors and successful franchisees across a range of different businesses.
Small Business, BIG Ideas - 4 September  - Melbourne - 'Small Business, BIG Ideas' is the new premier event for Victoria's Small Business Festival and your ticket to help your business grow. The event, dedicated to inspiring small businesses at every stage of life, is a must for all small business owners and operators in Victoria.