InFocus December 2014 - Volume 23 Issue 11
Contents
2014...How we helped you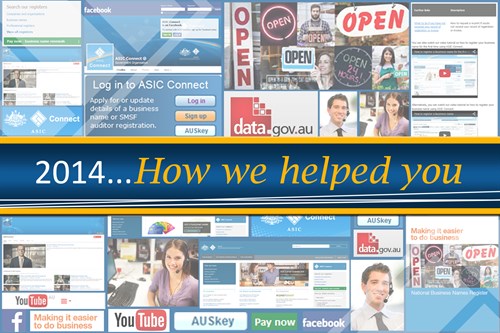 2014 was another big year for the ASIC Registry business.  Some of the highlights have included:
A record number of company and business name registrations, with over 2.1 million companies and 2.1 million business names on our registers
We have continued to deliver all of our services within the standards set by ASIC's published service charter
We've improved our call centre services. For example we have upgraded our technology, made our menu options simpler, and introduced a call back facility during busy times
The ASIC website has a new look and feel, and it's been reorganised to make finding the registry information you need easier. We've posted a suite of new YouTube videos and tutorials on how to interact with our registry. You'll also find a new guide called "making it easier to do business" which focuses on the national business names register
We have improved our online services in many ways. Three examples are:

the new 'pay now' service for business name renewals, which has had an 86% uptake and removes the need for customers to log on to do their renewals,
the introduction of AUSkey access for ASIC Connect, an alternative secure log in for ABN holders, and
for the first time we published free information from our company register on the data.gov.au service, providing a new channel to access registry information

We started the design and build of a new Financial Advisers register which we expect to launch in 2015
We wish all our customers a happy and safe festive season.
We'll be back early February 2015 with our first edition.
Simple errors can be expensive, learn how to avoid them
Did you know that when registering a new company even simple errors can cause a variety of problems? 
Not only can it compromise information for the searching public, it can also lead to difficult and costly situations for company officeholders. 
We often receive calls from new company officeholders who can't open a bank account because the company name has been spelt incorrectly.
Some officeholders can't transact with us because an error has been made when entering officeholder names, date of births, or addresses.  
When registering a company, it is important to ensure that all company details are:
complete - ensuring full legal names are not shortened (e.g. Robert to Bob) and other given names are not omitted, valid addresses are provided
correct - focus on spelling, date, and place of birth details.
Ensure your customers have a positive experience when starting their company by providing complete and correct information.
Get up-to-date before you take a break
Don't come back to late fees in the New Year!
We know many of you are busy preparing to enjoy a break over the festive season. But before you close your business for the year, make sure you complete these important activities:
This Christmas we're online
Our customer contact centre will be closed between Thursday 25 December and Thursday 1 January.
However, our online services will still be available for you to submit company and business name transactions.
Our ASIC Connect online search service is also available.
More information about our Christmas closedown.
#Followus and keep informed
Want to keep up-to-date with the latest company and business name information?
Following us on Facebook and Twitter gives you quick and easy access to current events, helpful tips and other useful information. Regular posts include links to starting, running and cancelling your business.
On YouTube you'll find handy videos and tutorials that step you through some of our most common transactions.
Here's a sample of some of the positive feedback we've received so far:

Subscribe to our YouTube channel
Five minutes with…Tim Matthews, Manager, Systems and Online Services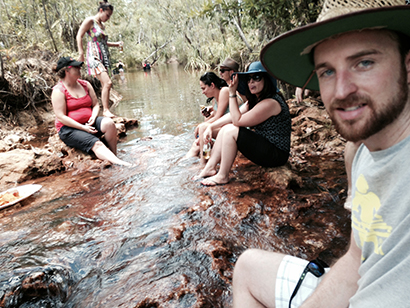 A major focus of the Registry is our online services. Our Systems and Online Services team is responsible for managing our services, including responding to customer inquiries, testing improvements and working with other government and external stakeholders and learning from their experiences. This team is led by Manager, Tim Matthews.
My team is responsible for…managing ASIC's online Registry services. My team helps design and test improvements to ASIC's online services, as well as manage technical questions and service availability. We also work with other government agencies and commercial intermediaries to make it easier for our customers to interact with us.
Inquiries we receive…from internal and external customers, are primarily of a complex technical nature, which require detailed investigation and analysis to resolve.
Recently I undertook the Jawun experience…which involves forming partnerships across government and private organisations to support Indigenous Australians.  Together we aim to improve the lives of Indigenous people across Australia by working with them on the ground, in remote locations, sharing our skills and knowledge. I was one of ten individuals from a variety of organisations across the country who undertook a six week secondment to North East Arnhem Land.
Jawun benefits… participants like myself, both professionally and personally. It benefits partner organisations, like ASIC, by broadening staff skills and perspectives. Local Indigenous organisations are able to focus on improving education, training, employment, economic and business development.  
My Christmas is…normally waiting about three hours from when lunch was planned to when it is ready and travelling all over Victoria to visit the rest the family. This year I will be trying to spend a bit more time with my two year old nephew and new puppy! (yes I gave in).
My New Year resolution is…to finish all of the home improvement projects left on my 'to do' list, they are always too easy to put off.