InFocus December 2015 - Volume 24 Issue 11

Contents
Season's Greetings from ASIC's Registry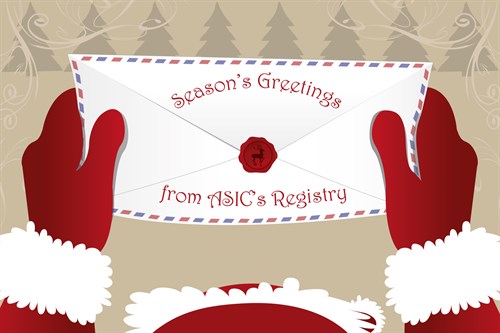 In this edition of InFocus, we get you ready for the Christmas break. 
There are tips on what to do before you leave the office and the services available over the holiday period.
This time of year is also a chance to reflect on what we have achieved and where we're headed in 2016. Next year we will continue to focus on improving our technology and customer service.
We hope you have enjoyed reading InFocus in 2015 and we look forward to bringing it to you again next year.
From everyone at ASIC, we hope you have a safe and happy holiday season.
Celebrate a fee free new year
Returning from your Christmas break to ASIC late fees would not be an ideal way to start the new year.
So before finishing up for the year, make sure to:
This Christmas we're online
Our Customer Contact Centre is closing between Friday 25 December and Friday 1 January.
Our online services will still be available for company and business name transactions.
ASIC Connect online search services will also be available.
More information about our Christmas closedown.
Thanks for your feedback
In October InFocus, we asked for your feedback on our Registry information. We received some useful responses and it was positive to hear you would like to see more online.
Some common feedback received was:
More online transactions
Online invoicing
More information in the debtor details section in the registered agent portal
We will take this feedback onboard and will work on making changes based on your feedback in the coming weeks.
You can provide feedback at any time by emailing us at infocus@asic.gov.au.
Five minutes with… Luke Keet, Senior Specialist, Planning and Improvement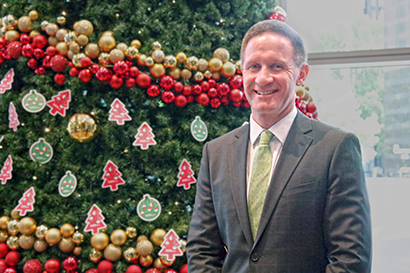 The company and business names registers have seen significant change in recent years, particularly with the transition to online services. Find out more about our online improvements from Senior Specialist Luke Keet.
My role… involves leading projects involving changes to legislation, technology and customer interactions. I am also responsible for engaging with key stakeholders.
A typical day for me… starts with coffee! I then start work on customer service improvements and preparing briefs or reports. I also help customers interact with ASIC and respond to requests from international regulators.
Our biggest customer improvement this year… is the extra online support we provide customers. We've updated the Annual Statement Pack and started a team to help customers lodge online. 
My biggest achievement for 2015… was the new business name registration rules that started in July. Based on customer engagement, the new rules change how we assess business name availability.
This Christmas I'm looking forward to… putting up the Christmas decorations - I am responsible for the lights on the roof. I'll also enjoy switching off, relaxing with family and spending time at the beach.