InFocus December 2016 - Volume 25 Issue 11

Contents
 New Zealand Companies Office visits ASIC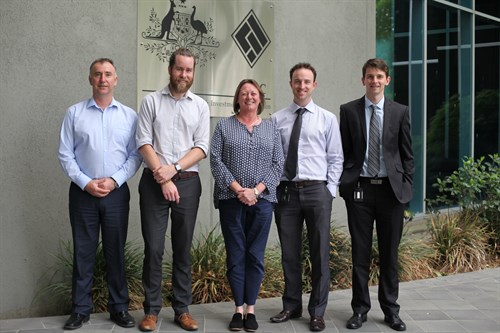 ASIC Registry recently hosted representatives from the New Zealand Companies Office (NZCO).
NZCO is the New Zealand equivalent of the ASIC Registry business, and is responsible for administering several business registers including registers for corporate entities, securities over personal property, capital markets and financial products.
ASIC has a strong relationship with NZCO, having worked together on a number of initiatives that help Australians and New Zealanders do business across the Tasman.
When you register as a foreign company, ASIC and NZCO will automatically use information already on the Australian and New Zealand registers. We also share information when you update your company information. For example, when you change your registered office address, your constitution, or officeholder details, your company information will automatically be updated on both registers.
NZCO and ASIC have also development the free NZAUConnect app. The app combines records from ASIC's companies register, NZCO's companies register and ASIC's business names register so you can simultaneously search for companies and businesses in both countries. At a glance, you'll be able to tell the registration status of a company or business name, and with one simple click, reveal more details about the entity you're interested in.
It's perfect for checking out businesses before you start dealing with them. Download the NZAUConnect smartphone app now.
Check your company details before Christmas
The lead-up to Christmas is often hectic so it can be easy to overlook important deadlines. Before you head off on your holidays, make sure all your company details are up to date; otherwise your first task in the new year might be dealing with a late fee.
Most updates need to be made within 28 days of the change. Otherwise, you'll be charged a $76 late fee (if it's a month late) or even a $316 late fee (if it's over a month late).
You can check your current company details by logging into your account. Alternatively, you can search online using ASIC Connect.
To make it easier, all changes to company details are now made through our online service. We no longer have a paper version of our Form 484.
To update your company details:
Register for online access using your company's corporate key (if you don't already have an account)
Log in to our online services with your company's ACN or ABN
Enter your username and password
Select 'Start new form' and select Change to company details
Once you're registered for online access, we'll email you important reminders for things like your annual statement.
For more information about the changes you need to let us know about, see Changes to your company. 
New web content
Your business structure
We've updated the Your business structure page. It now provides an overview of the most common business structures and outlines the key differences between registering a business name and a company. It also outlines the associated costs and compliance obligations for each structure.
Checklist for registering a company
We have a new page that steps you through the things to consider before registering a company. Checklist for registering a company covers topics such as replaceable rules, choosing a company name, and deciding on a share structure.
We've added a feedback mechanism to each of these pages, so we'd love to hear what you think.
ASIC Annual Forum: 20-21 March 2017
Registration is now open for the 2017 ASIC Annual Forum.
Over two days, the Forum will explore the balance between innovation and stability in our rapidly transforming financial system.
Program highlights include:
Disrupting traditional business models: perspectives from Asia
Building trust and confidence in big data
Doing business across Asia
Early bird registration closes 28 February. Register now.
Our Customer Contact Centre will be closed from COB Friday 23 December 2016 and reopen Tuesday 3 January 2017.
Our online services will still be available for company and business name transactions.
ASIC Connect online search services will also be available.
Find out more about our Christmas close-down