InFocus December 2017 -Volume 26 Issue 11

Contents
Avoid late fees this new year!  
The lead-up to the holiday season is often so busy it can be easy to overlook important deadlines. Before the end of the year, make sure all your company details are up to date. Otherwise, your first task in the new year might be dealing with a late fee!
Most updates need to be made within 28 days of the change. If ASIC is notified outside of this time period, you'll be charged a $78 late fee (if it's a month late) or even a $323 late fee (if it's over a month late).
If your Annual Review date falls during the holiday period, you may apply to change it.
For information about the changes you need to let us know about, see Changes to your company.
If you want to check or update your company details, you can do so by logging into your account.
Time's running out for tax (financial) advisers to renew
With just over three weeks left in 2017, the Tax Practitioners Board (TPB) has revealed approximately 9,500 tax (financial) advisers still need to apply to renew their registration by 1 January 2018. 
Chair of the TPB, Mr Ian Taylor warns that time is running out for tax (financial) advisers to renew their registration and they will put their business at risk if they fail to renew.
'Like most Australians, these 9,500 tax (financial) advisers will be looking forward to a break. Don't put your business at risk – make sure renewing your registration is on the top of your to do list before Christmas,' Mr Taylor urged.
'If tax (financial) advisers fail to renew their TPB registration they can no longer provide tax (financial) advice services for a fee or reward. They will also need to lodge a new application and cannot provide services until the new application is decided.'
Register now for the ASIC Annual Forum
Registration is now open for the 2018 ASIC Annual Forum.
Over two days, the Forum will explore the balance between innovation and stability in our rapidly transforming financial system.
 Program highlights include: 
The importance of trust in financial services
Meet the Commission and ASIC's new Chairman
Trusting algorithms – using data to make better decisions
How data and insuretech could revolutionise the industry
 Early bird registration closes 28 February. Register now.
Case study – Hayley's Hairdressing – Renewing your business name
We're always looking for new ways to provide content to help you or your clients meet their obligations with ASIC. Over the next few issues, we will include case studies to explore what business name and company holders need to do with ASIC.

This month, we check in with Hayley to see how she is going: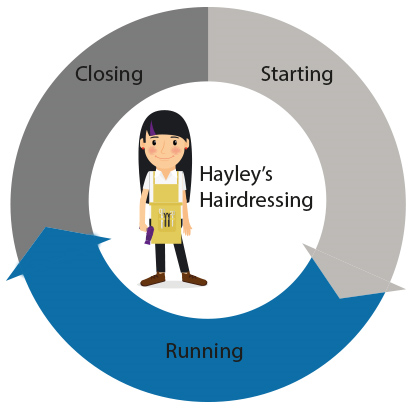 It's been almost a year since Hayley has registered her business name and it's time to renew her registration.
Hayley gets an email reminder from ASIC that her name is due for renewal. The email also contains a copy of her business name details (including her account number and ABN), as well as a link to our 'Pay now' service.
Hayley's business details are up to date, so she doesn't need to log into her ASIC Connect account to make changes.
Hayley selects the 'Pay now' link and enters her business name's account number. She then pays $82 with a credit card to renew for three years.
Shortly afterwards, Hayley gets an email from ASIC confirming that her business name has been renewed with a copy of her new record of registration.
For more information about renewing your business name, visit our website.
We'll be online this Christmas
Our Customer Contact Centre will be closed from COB Friday 22 December 2017 and reopen Tuesday 2 January 2018.
Our online services will still be available for company and business name transactions.
ASIC Connect online search services will also be available.
Find out more about our Christmas closedown, visit our website.
ASIC's 2016-17 Annual Report now available online
ASIC's Annual Report for the 2016–17 financial year was tabled in the Australian Parliament on Thursday, 26 October 2017. The Annual Report details ASIC's performance for the financial year.
During 2016-17, ASIC: 
registered 249,394 new companies
registered 348,268 business names
received 91 per cent of registry lodgements online
facilitated 90.6 million searches on our registers, and
increased the number of Australian Financial Services licensees by 547
Download the 2016-17 Annual Report.
#Followus in 2018
Want to keep up-to date with the latest company and business name information? Following us on Facebook and Twitter gives you quick and easy access to current events, helpful tips and other useful information. Regular posts include quick tips for your business name and company.
On YouTube you'll find handy videos and tutorials that step you through some of our most common transactions.
Subscribe to our YouTube channel
Links we like
Scams targeting ASIC customers – We discuss the warning signs and how to protect yourself from email scams pretending to be from ASIC.
Moneysmart – We explain how to spot the warning signs of company director fraud.