InFocus December issue - Volume 22 Issue 3
Contents
Welcome to December InFocus
In this issue you'll discover how you can more easily manage your registered business name (or those you maintain on behalf of clients) and find out what the introduction of annual statements mean for SMSF auditors.
For readers on the move, this issue of InFocus also covers NZAUConnect, our new smartphone application which allows you to quickly find details on almost five million registered organisations in Australia and New Zealand.
This is the last InFocus for 2013, and we wish readers a safe, happy festive season and the very best for the new year.
Rosanne Bell
Senior Executive Leader
First time, right time for providing information
With ASIC's registers holding more than 10 million records, ensuring the accuracy and integrity of information is an essential part of our business.
To help us in that objective, we're asking agents to ensure the information they provide is mistake free in the first instance.
This is particularly important following changes to the timeframes in which we action requests to amend or correct information provided to us. Under the new timeframes, corrections made over the phone or via Form 492 (Request for correction) may not be reflected on ASIC's registers for up to five business days after lodgement.
NZAUConnect app allows trans-Tas search on the go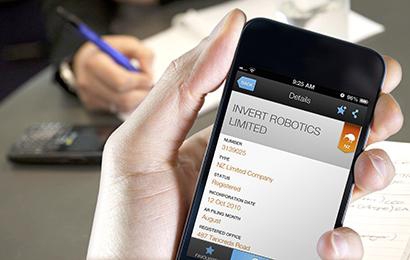 You can now use your smartphone to quickly find details on almost five million registered organisations in Australia and New Zealand with the release of NZAUConnect.
A joint initiative of ASIC and the New Zealand Companies Office (NZCO), NZAUConnect brings together two million records from ASIC's companies register, 550,000 records from the NZCO's companies register, and 1.7 million records included on the Australian National Business Names Register.
Through NZAUConnect, you can access basic information on businesses, save your most common searches and share results by email.
Since NZAUConnect was launched in August, over 4,234 people have downloaded the app, with more than 26,054 searches made through it.
NZAUConnect is free for Apple iOS and Android devices.
SMSF auditor annual statements coming soon
SMSF auditors should be on the lookout for their annual statement, which will arrive from late January.
When the anniversary of their registration arrives, auditors will be notified that their SMSF auditor annual statement is due.
Auditors can complete their annual statement using ASIC Connect.
Further details about the annual statement will be sent to SMSF auditors soon, and you can also subscribe to our SMSF auditor update newsletter to keep up to date with the latest information.
Renew@asic - a new way to renew your business name
Did you know you can renew a business name registration by email?
Simply email renew@asic.gov.au with your business name, contact details and tell us whether you want to renew for one or three years. We'll then send you an invoice you can pay by BPay or POST Billpay.
Recommended browsers for ASIC Connect

Although ASIC Connect has been designed to work with all popular web browsers, new versions and browser updates can occasionally cause problems for customers.
We work hard to resolve issues as quickly as possible, but to ensure full functionality with ASIC Connect, we suggest using one of our recommended browsers, each of which has been comprehensively checked and tested.
Jargon buster: Linking a business
If you've used ASIC Connect, you'll probably have been asked to 'link' your business name to your ASIC Connect account - but why, and what for?
Linking your business name (or SMSF auditor registration) to your account is a simple, once-off process. After you've linked your business name, you'll be able to take advantage of the many online functions offered by ASIC Connect, including updating your details or adding new partners.
In order to ensure your privacy, you'll need your ASIC key before you can link your business name to your account. We send your ASIC key when you first register your business name, and include it in your business name renewal notice and most other correspondence we send.
To see how to link your business name, download our step-by-step user guide.
New address options help home-based businesses
Did you know you can now request ASIC to send service documents and other information to your postal address, rather than your actual place of business?
Designed to help improve the privacy for people running a business from their home, the new changes also benefit business owners in regional and remote parts of Australia, where mail often can't be delivered to a physical address.
Find out how to use a postal address for the service of your ASIC documents - including step-by-step instructions on updating your address.
Not using your business name? Cancel it.
Got a registered business name you don't use? If so, you should consider cancelling it.
In addition to avoiding repeated reminder notices being sent to you, cancelling your unused registered business name will also remove your current details from the public Business Names Register.
In some cases, customers have assumed when they cancel their Australian Business Number (ABN), their business name will be automatically cancelled by ASIC; however, this isn't the case, and you'll still need to cancel your business name through ASIC Connect.
We're online over Christmas
While ASIC offices and our customer contact centre will be closed between Wednesday 25 December and Wednesday 1 January, you can still lodge company and business name transactions using our online services.
During this period, you'll also be able to access the ASIC website, use ASIC Connect and search all ASIC registers, including those for organisations and business names.
Five minutes with... Margaret Boothman, Senior Manager, Registry Services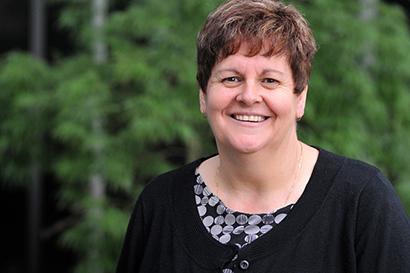 As new technology rapidly reshapes the way we do business, find out how ASIC's Registry Services group balances the need for efficiency, innovation and customer engagement when we spend five minutes with Senior Manager, Margaret Boothman.
My team is ... responsible for maintaining ASIC's public registers of companies, business names and financial professionals. Although the majority of us are based in ASIC's Traralgon office in regional Victoria, we have staff located across Australia.
The team... oversee the functions required to make sure ASIC's registers are accurate, up-to-date and accessible for our clients and customers. Given the large number of registers we manage, and the many millions of records within them, we spend a good deal of time looking at efficiency and process improvement. We're very good at doing more and more with less and less!
Our customers... range from financial professionals to small business owners. While the Internet has made it easy for customers to do business with us online, we still place a very high value on customer service. When a customer lodges an incomplete transaction, for example, we'll call them to help resolve any problems they may be experiencing - we aim to fix the issue first time and make sure customers get the most from the services we provide.
A typical day for me ... includes planning and managing resources to update ASIC's registers in a timely manner, with an emphasis on keeping the customer informed throughout the transaction. Alongside my customer-facing work, I also spend a lot of time with my staff to explore new ways to improve and enhance our services, especially those delivered online.
Since starting with ASIC ... I've seen major legislative reforms - such as National Business Names Register and SMSF Auditor Register - and the introduction of new technology change to the way ASIC delivers its services. In many cases, these changes have brought real benefits for our customers - it's exciting, encouraging and rewarding to be working in such a dynamic space.
When I'm not at work ... you can find me enjoying my free time with my family.
How to... Get a list of upcoming company review dates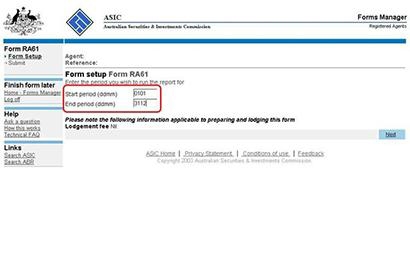 We show you how to get a list of upcoming company review dates using our Registered Agent portal.
ASIC's annual review statement is an important part of helping ensure ASIC registers hold current, accurate information about companies registered in Australia.
However, for business owners and agents alike, it can often be challenging to know when to expect your annual review statement. Generally, we'll send your annual statement within a few days of your company's annual review date (which is usually the anniversary date of its registration).
If you're not sure of when your annual review date will be, or you're responsible for a large number of companies, you can find out (or generate a list of companies and respective review dates) by using our Registered Agent portal.
If you use third party software, check how to request upcoming review dates with your service provider.
How to... Get a list of upcoming company review dates(727kB)