InFocus February 2016 - Volume 25 Issue 1

Contents
New year, new business?
New Year's resolution to start your own business?
This month we give you the information you need to get started. We look at the different agencies you may need to visit, protecting your business name and tips for registering a business name.
Before you start
In the process of starting your business, you will deal with a range of agencies. ASIC is only responsible for the registration of the business name. Other agencies you may need to contact include:  
It's important to understand that registering a business name does not give you exclusive ownership of the name.  
Before registering make sure your business name does not infringe on an existing trademark by searching IP Australia. You might also consider registering a trademark yourself.
Find out more about protecting your business name.
See what else you need to do before you start registering your business name.
Is the business name you want available?
Before registering a business name, make sure the one you want is available. You can check name availability through ASIC Connect Search.
The name availability search will provide one of  the following results:
Red – name is not available
Green – name is available
Yellow – name requires review by ASIC staff
The name availability search also lists similar business names.
Find out more information about business name availability. 
7 business name registration tips
Registering a business name? Here are seven hints to help you out.  
Understand the structure of business you are registering. If you're registering as an individual, partnership, company, joint venture or trust, different information is required. See our user guides for help.
When entering your ABN, don't include spaces.
Make sure you enter your business name exactly as you want it to appear on the register. We can't change names once they have been registered. Business names applications are also case sensitive.
When you check name availability make sure you use the search under the business names tab. The company check name availability will give you different results.
If your application queues for review, the business name has not been registered. ASIC staff will review the application and you will be notified of the outcome. You are not required to contact us. 
Understand that your business name service address may be a physical or postal address.
Have your credit card handy for quick and easy payment. Your business name is registered as soon as it is paid for. If you choose to pay by invoice, we must receive payment within 10 days. 
Start Me, Grow Me Small Business Forum – Ringwood VIC
Start Me, Grow Me Small Business Forums are a one-stop-shop for business resources.
Come along and get access to assistance, programs and information from different government agencies.
In addition to ASIC, other agencies including IP Australia, the Australian Taxation Office and AusIndustry will present at the forum.
The next forum is being held in Ringwood VIC on Wednesday 9 March 2016 at 6.00pm.
Five minutes with Gail Newbury, Analyst, Registry Services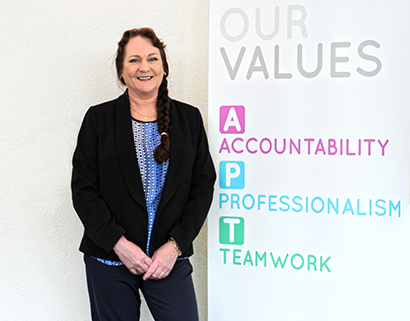 While most business name applications are completed online, we have staff to assist with more complex requests. Find out more about our Registration team from Analyst, Gail Newbury.
My role… is to provide advice on business name and company registration, particularly the availability of a name. I also assist with Ministerial consent applications, where a customer wishes to register a company or business name with a restricted word or term. We work to determine if the name is appropriate and within the rules.
The part I enjoy most about my role… is finding solutions to registration problems and helping customers to understand the process.
Something you wouldn't expect in my role… is the number of rude words included in proposed business names!
Before registering a business name, customers should… check the name is available to register. Many customers spend considerable time working through the process to find their preferred business name is not available. Another tip - If ASIC Connect advises a name contains a restricted word, check our Ministerial guidelines  to see if you meet the criteria.
Something I intend to start this year… is to get back on my home treadmill and improve my fitness.