InFocus February 2018 - Volume 27 Issue 1

Contents
Registered agents - check your account balance online 
As a registered agent, you can use our online services to check the account balance for all companies they manage. This can be done by requesting a Company Debt Report (RA67). This report displays:
the company's name
the company's Australian Company Number (ACN)
the registered agent number
the date the report was requested
the total amount owing on the transaction, and
the amount that is currently due
When the report is downloaded, a minus ('-') sign before the balance number means that the company's account is in credit.
If you've lodged a form and made a mistake, it's easy to fix online. All you need to do is submit a Request for Correction (Form 492), enter the details of the form you need to update, and explain what information you need to correct.
These are just a few examples of how you can manage companies online as an agent. We also have handy user guides to walk you through each transaction on our support for registered agents page.
You can also download company details, review date reports and more through EDGE. For more information on what you can do with EDGE, visit our website.
New video - Closing your company
Even if your company has stopped trading, it's still registered with ASIC. This means that you must still meet your legal obligations, including paying the annual review fee. Deregistering your company removes you from your officeholder obligations.
We've put together a short video to help you understand when you can close your company, how to do it, and what you need to consider.
What does Industry Funding Model mean for small business?
The Government has introduced new laws that change the way ASIC is funded. The legislation took effect on 1 July 2017. Under the new arrangements, regulated entities will pay the costs of ASIC's regulatory services. ASIC's regulatory costs for small proprietary companies will be collected through an increase of around $5 to the Annual Review Fee, which will take effect from 1 July 2018.
A small increase to the Annual Review Fee was designed as the most efficient way to recover ASIC's regulatory costs for small proprietary companies to minimise the reporting burden. If the legal entity is a small proprietary limited company and they also operate in one of 48 industry sub-sectors, then an additional industry funding levy will apply.
For more information, please visit our website.
A reminder to be wary of potential scams.
Scammers have been contacting a number of customers asking for payment to renew business names or companies. The emails often link to fake ASIC invoices that have incorrect payment details, or infect your computer with malware when you click on them.
An email may not be from us if it asks you:
to make payment over the phone
to make payment to receive a refund
for your credit card or bank details directly by email or phone
For a business name, we will issue a renewal notice 30 days before your renewal date. For a company, we will issue your annual statement within a few days of your review date for a company. If it's outside our usual timeframe, it might be a scam. You can check your renewal date or review date on our website.
To help protect yourself:
keep your anti-virus software up to date
be wary of emails that don't address you by name, misspell your details, or have unknown attachments
don't click any links on suspicious emails
If you're unsure if an email is legitimate, contact us and we can confirm if we've issued you a notice. You can also notify us of a scam by forwarding the email to ReportASICEmailFraud@asic.gov.au.
Case study - B&L Building Pty Ltd - Annual Statements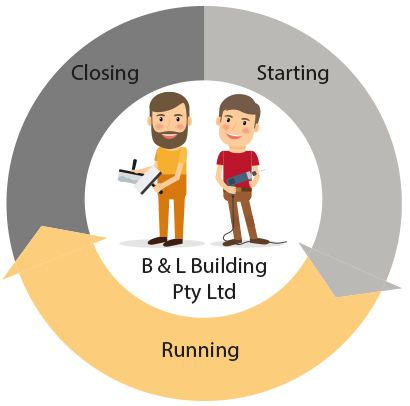 It's been almost a year since Brad and Luke registered their company and their annual statement will be coming out shortly.
As they've registered for online access, they receieve an email reminder from ASIC that their annual statement is available and their review fee is due. Otherwise, the annual statement is sent by mail to the contact address.
There's three things they need to do once they receive their annual statement:
Pay their annual review fee
Check their company details
Pass a solvency resolution
Brad and Luke check the annual review fee on their invoice and make the payment as soon as they can to avoid any late fees. The amount can change depending on the type of company.
They also check their annual statement to make sure that all their details are correct and up to date. If they need to update their address or any other information, they can use their online account to do so.
Once Brad and Luke have paid their review fee and checked their details, they need to pass a solvency resolution. A 'positive' solvency resolution means that the company can pay back all of its debts when it needs to, while a 'negative' solvency resolution means it cannot. Brad and Luke read ASIC's website to learn more and pass a positive solvency resolution.
For more information about your annual statement and to answer any questions, visit our website.
Working with the New Zealand Companies Office
New Zealand Companies Office (NZCO) is the New Zealand equivalent of the ASIC Registry and is responsible for administering several business registers. This includes registers for corporate entities, securities over personal property, capital markets and financial products.
ASIC has a strong relationship with NZCO, having worked together on a number of initiatives that help Australians and New Zealanders do business across the Tasman.
If you are a company registered in both Australia and New Zealand, certain information is automatically transferred between registers. For example, when you change your registered office address, your constitution, or officeholder details in New Zealand, your company information will automatically be updated on both registers.
The NZAU Connect app is another joint initiative between ASIC and NZCO. Through NZAUConnect, you can use your device to check a business' registration status, registration number and principal place of business. You can also save your most common searches, and share search results by email.
The app brings together:
2.6 million records from ASIC's companies register
600,000 records from the NZCO's companies register, and
2.3 million records included on the Australian National Business Names Register
At a glance, you'll be able to tell the registration status of a company or business name, and with one simple click, reveal more details about the entity you're interested in. It's perfect for checking out businesses before you start dealing with them.
NZAUConnect can be downloaded for free from the App Store and Google Play.
ASIC in the Media
ASIC licenses first crowd-sourced funding intermediaries
We have given seven companies Australian Financial Services (AFS) licence authorisations so they can provide crowd-sourced funding services to investors.
Some public companies will now be able to use the CSF regime to raise capital.
Find out more about becoming a crowd-sourced funding intermediary, visit our website.
Start 2018 using ASIC's MoneySmart to set financial goals
We are encouraging Australians to start the New Year by setting financial goals.
Our MoneySmart website makes this easy by providing financial tools and guidance to help Australians of all ages manage their money.
You can find some New Year financial resolutions to make your money work for you in 2018 on our website.
ASIC reports on corporate insolvencies 2016–17
We have published our annual overview of corporate insolvencies. This is based on statutory reports lodged by external administrators for the 2016–17 financial year.
You can find the report on our website.