InFocus July 2015 - Volume 24 Issue 6

Contents
Welcome to our new look InFocus
This month we are excited to launch our new look InFocus.
You'll notice a new look and layout, with easier to view articles and images. The InFocus email has also been optimised for viewing on your smart phone or tablet.
This month we tell you about our online interactive resources that are designed to help you meet your obligations. 
What to expect this financial year
This financial year we will be delivering some exciting improvements that will make it easier for you to register and maintain your registrations.
These improvements include:
Introducing web chat on our asic.gov.au website
Publishing more information on data.gov.au
Reducing paper forms and encouraging use of our online services
Simplifying business registrations with other government agencies
Keep an eye out for updates on these topics throughout the year.
New fees for the 2015-2016 financial year
ASIC fees have increased based on the Consumer Price Index (CPI) for the March quarter.
More information about the fee increase including examples of new fees is available on the ASIC website.
You can also look at our list of fees for commonly lodged documents.
New look social media
Our social media profiles (Facebook, Twitter and YouTube) have also been given a new look.
The layouts have changed; we have more engaging content, and you will see a consistent look and feel across our channels.   
You'll also notice changes to the way we post information, including new images that relate to specific themes.
New business name user guides for trusts, joint ventures and company holders
We've just released new online business name registration user guides for different holder types, including trusts, joint ventures and companies.
Download our new user guides now.
Selling or closing your business? New videos available
Selling or closing your business can be challenging, especially when you're unsure which government agencies you need to contact.
We've been working with the Australian Taxation Office (ATO), Department of Industry and Science and the Fair Work Ombudsman to develop a series of videos to help you understand your obligations when selling or closing your business.
Watch the journey of selling or closing a business now.
Five minutes with Daniel Sen, Senior Manager Registry Operations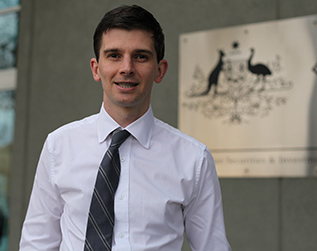 Our Registry Operations team works hard to ensure ASIC keeps up-to-date with new technology, including social media channels such as Facebook, Twitter and YouTube. Daniel Sen, Senior Manager Registry Operations provides an insight into our new online interactive resources.
My role… I am responsible for the operational support of our registers and online lodgement and search services customers use daily. I also have responsibility for engaging with our business partners and managing the communication activities for the website and social media for the Registry.
Daily… you would find me in workshops, responding to customers on social media, coaching staff and writing reports on our business activities. 
Our social media facelift…  gives a fresh new design for our profiles. It was a tough challenge to design a concept that links our customers and registers. This link was the workspace because customers always use our registers online from a workspace. Check out our Facebook and Twitter feed over the next couple of weeks to see how we have integrated the design into posts.
The best technology improvements… are often the simplest! Take the business names registration and the account linking process in ASIC Connect. Our original design had these as separate transactions which created friction in your online experience. We now link your ASIC connect account automatically during the business name registration process. Simple!
Customers can look forward to… More digital services! We want to provide simple and convenient services that make it easier to do business with us. Watch out for web chat and our registers on data.gov.au in the coming 12 months.
In the future… I want an autonomous car, hoverboard (the back to the future date is fast approaching – 21 October 2015 - hurry up) and augmented reality in glasses!