InFocus July 2016 - Volume 25 Issue 6

Contents
Welcome to the new financial year with ASIC
In this month's InFocus we cover annual fee increases and also give you tips on how to check your registration details are up to date, as well as how to keep your company or business names registered.
We also share some useful resources from across the web and chat with Rebecca Austin from our Customer Contact Centre.
New fees for the new financial year
ASIC fees increase each year at the beginning of the financial year.
Visit the ASIC website for more information about fee indexation and examples of the new fees that apply from 1 July.
We also have a list of fees for commonly lodged documents.
Check your business name or company details are up-to-date
Use tax time as a reminder to check your business name or company details are up-to-date. This can include your address details and holder details.
You can use our online services to check your details. Remember, you can check and change your business name details through ASIC Connect. Company changes can be made using our online services.
Don't lose your business name – renew it before it's cancelled
You must renew your business name to make sure it stays registered. Business names that are not renewed may be cancelled by ASIC.
You can check your renewal date by searching your business name on ASIC Connect Search.
Need to renew your business name? Our video explains how.
Received your annual statement? Pay your annual review fee first.
Each year we send your company or scheme an annual statement shortly after the annual review date (in most cases the date you registered the company or scheme). When you receive your annual statement you must:
pay the annual review fee shown on your invoice before the due date to avoid late fees
check your company details are correct and make any changes within 28 days of receiving your annual statement
pass a solvency resolution within 2 months after each review date (if you pass a solvency resolution, you are not required to send this to ASIC).
To receive your annual statement online, register for our online services. If you're already registered, we'll send your company's annual statement to your online inbox. You can also use our online services to make changes to your company details.
Received a late fee? We explain why...
Late fees are like a parking fine – annoying and avoidable. We explain the steps you can take to avoid ASIC late fees.
Late fees apply when information we need is not lodged on time, or an annual review fee is paid late.
To avoid paying late fees:
Understand when you need to notify ASIC of changes to your company and the lodgement periods for different documents.
Use our online services to update your company details, view statements and upload documents instantly.
Our infographic explains how to avoid late fees.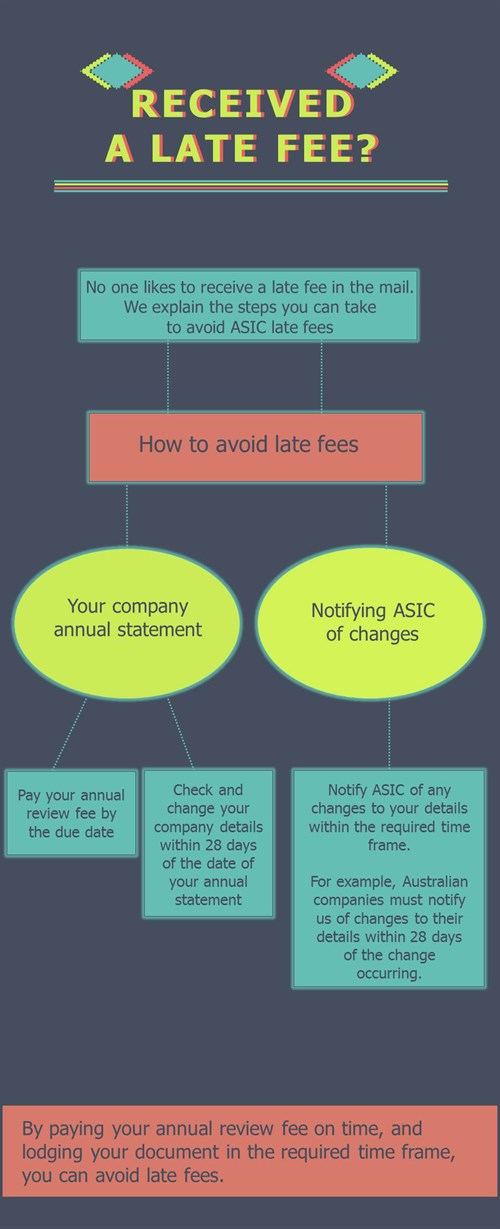 Find out more about late fees. 
New data sets now available on data.gov.au
ASIC has published two new datasets on data.gov.au. The two datasets include the:
Banned and Disqualified Persons register and
Banned and Disqualified Organisations register.
Data.gov.au is a website that allows customers to find, access and reuse data made available by government organisations.
We now have 12 datasets available - providing access to over 5.8 million records, including companies, business names and professional registers. We update our datasets monthly, reflecting any changes to information on our registers.
If you have any feedback on our datasets, leave us a comment in the comments section on data.gov.au.
View and download our datasets now.
Links we like
Social media – Keep up to date with the latest on companies and business names by following us on Facebook and Twitter.
Business.gov.au – Business.gov.au provides information on protecting your business's Intellectual Property (IP). See protect your ideas.
MoneySmart – The new MoneySmart Cars app helps you to work out the real cost of buying and running a car.
Five minutes with… Rebecca Austin, Team Leader, Customer Contact Centre (CCC)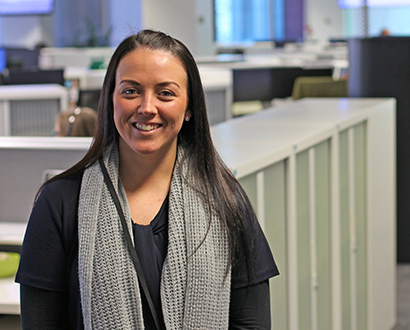 This month we catch up with Rebecca, a Team Leader in our Customer Contact Centre (CCC). 
My role is... CCC Team Leader.
On an average day... I like to try and stay healthy by starting the day with an early gym session. When I get to work it's all hands on deck checking emails, assisting staff and planning for the unexpected. Once I'm home, it's a night on the couch watching Home and Away.
What do you enjoy about your work? I love when a new staff member has a light bulb moment and the information just clicks for them.
We hear you like to travel. Give us your favourite destination. I do like to think of myself as a bit of a seasoned traveller and picking just one place is hard! I will give two – New York (in particular central park, as there is a lot to do and see, as well as great place to relax and people) and Budapest (Paris of the East). I was surprised by all the amazing old buildings along the river that at night are all lit up and golden.
The animal I'm most like is... a dolphin. Not only do they like to travel they are also very social and depend on interaction.
If you had to eat one meal every day for the rest of your life, what would it be? Thai. Anyone who knows me knows that Thai food is my go to take away especially when it involves chicken satay skewers and curry puffs. But there has to be LOTS of satay sauce.