InFocus June 2015 - Volume 24 Issue 5
Contents
In this edition
This month we cover a range of topics. We look at getting ready for the end of financial year, new resources available for company directors and checks you should complete when seeking financial advice or donating to charity. There is also an insight into the role our reporting analysts play.
Are you ready for the new financial year?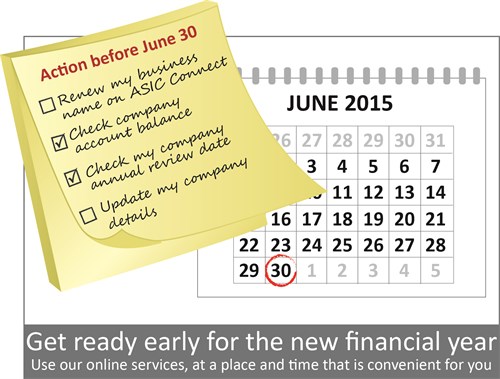 Why not get ahead of the end of financial year rush? Use our online services to finalise your business activities, at a place and time that is convenient for you.
Using our online services to:
Renew your business name/s
Check your company account balances
Check and update your company and business name details
Remember all business names registrations and changes can be made through ASIC Connect. While company updates can be made using our online services.
New fees for the next financial year
From 1 July 2015, ASIC fees will increase based on the Consumer Price Index (CPI) for the March quarter.
Legislation requires us to review and if required adjust our fees on 1 July each year to reflect changes in CPI.
More information about the fee increase, including examples of common fees, will be available on our website soon.
Keep checking our fees for commonly lodged documents for updates.
Are you a small business director?
If you are a small business director, we have a new resource available to help you understand your obligations.
Our new guide for small business directors explains:
what it means to be a company director
directors' key responsibilities
directors' liabilities when things go wrong
how to become a director of a company
how to resign as a director
There's also a video, where Commissioner Greg Tanzer explains how the new resource will benefit small business.  
We're always looking to help small business. If you have any suggestions let us know.
Financial adviser qualifications, training and professional memberships available now
When you search our financial advisers register, you will now see a financial advisers qualifications, training and professional membership details as part of the search results.
The register, which has been available to the public since the end of March this year, can be searched on ASIC's MoneySmart website. To date there have been more than 60,000 visits and more than 100,000 searches undertaken on the register.
"We want consumers to be able to make an informed decision in their choice of adviser and the register is a good starting point" Deputy Chairman, Peter Kell said.
We've also made information from the financial advisers register available on data.gov.au, which can be downloaded free of charge.
Donating to charity...where is your money going?
Before you make a donation to a charity, it's a good idea to search the Australian Charities and Not-for-profits Commission (ACNC) website and check if they are registered.
While companies that are charities are still listed on the companies register, their information may no longer be up to date. This is because registered charities are not required to meet certain reporting obligations to ASIC. For example they no longer need to provide us with updates to their company officeholder and address details. Instead they are required to provide updates to the ACNC.
To find up-to-date information about a charity, search the ACNC register.
Search for a charity now on the ACNC.
Five minutes with...Asher Brooks, Analyst, Reporting and Information Products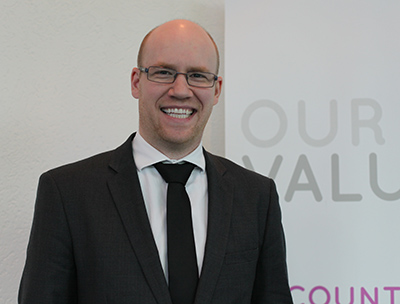 The end of financial year can be a busy time for Registry. Asher Brooks, Analyst, Reporting and Information Products, explains how.
As an analyst… I complete monthly and annual business reports and I respond to Registry and external customers reporting needs. I am constantly looking at ways to improve our reporting processes by investigating and implementing new technology.
A typical day for me… involves delivering daily reports and working on business priorities like the new financial advisers register and inclusion of our company, business names and financial adviser information on data.gov.au.
The end of financial year… can be hectic! We have thousands of customers trying to register business names and companies and make updates to their details before the 30 June deadline. It is also a busy time for our team preparing annual reports and planning for the year ahead.
Be ready for the end of financial year… make sure you use our online services – most updates and registrations are successful and updated immediately!
If I could invent one thing… because my brother is deaf, I always thought it would be awesome to have glasses that put subtitles to everything – cinema, people talking, etc.