InFocus June 2017 - Volume 26 Issue 5

Contents
Fee indexation – New fees from 1 July 2017
From 1 July 2017, some ASIC fees will increase based on the Consumer Price Index (CPI). Visit Fees for commonly lodged documents for a list of fees that will be increased on 1 July 2017.
More information about fee indexation can be found on our website.
Australia's unclaimed money – could some of it be yours?
ASIC holds around $1.1 billion in unclaimed money from lost bank accounts, shares, investments and life insurance policies. Some of it could be yours!
You can search on ASIC's MoneySmart website to see if there is any unclaimed money linked to you. Searching is easy, all you need to do is enter your full name and select search now. You can also search for family or friends.
The process to claim depends on the type of unclaimed money. Bank account or life insurance policy claims need to go to the relevant financial institution. Other unclaimed money can be claimed directly from ASIC.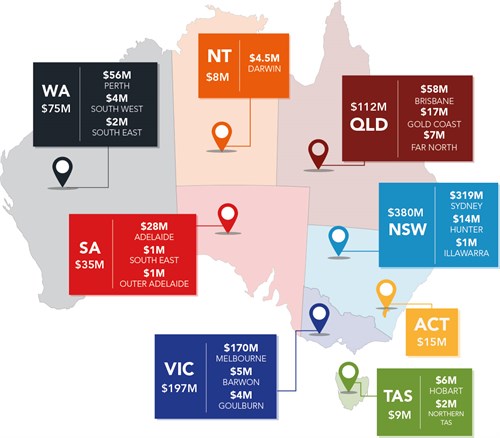 Wannacry?
While it seems Australia missed the worst of the recent Wannacry ransomware attack during May, your business could still be at risk.
It's advised that any Microsoft Windows users not using Windows 10 install the Microsoft Security Bulletin MS17-010 update.
Stay Smart Online has a range of tips on protecting yourself online.
You can also find out about specific scams targeting ASIC customers on our website.   
Keeping your details up to date with the ABR
With the day-to-day demands of running a business it can be easy to overlook small things like the accuracy of your ABN record, but it's important.
When you get an ABN, your details are available to the public on the Australian Business Register so your business and GST status can be verified.  This year between 600 – 700 million searches are expected from the community via ABN Look-up - that equates to 1,300 searches of the Register every minute!
By keeping your details up to date, not only are you doing the right thing as a responsible business owner, you also stand a better chance of hearing about government activities that could directly benefit your business.
Your ABN details are also used by government agencies to plan for future community and infrastructure developments that you need to know about that may benefit your business.
So, remember to update your ABN details within 28 days if your business details change, including address, email, phone number, entity type or any other details.
To find out how to update your ABN details, please visit abr.gov.au.
Missing your search product? Get a copy online
If you've purchased a search product in the last 90 days and can't find it, you can visit ASIC Connect to download a copy.
To retrieve a copy:
Visit ASIC Connect and look for the 'Previous purchases' panel on the right hand side.
Enter your receipt number, or enter your email address linked to your original purchase and the date range.
You can then download a PDF copy of your product.
You can also get a copy of your receipt and send your product to another email address.
Register for ASIC small business webinar 
If you are interested in what government is doing to help small business, why not sign up for our free and interactive webinar on 8 June 2017.
Join ASIC, other government agencies, small business owners and host Tracey Spicer (television, radio, and newspaper journalist) to discuss how regulators are working to level the playing field for small business.
During the webinar, current and future initiatives for each agency will also be discussed.
Agencies participating include:
Australian Securities and Investments Commission
Australian Taxation Office
Australian Competition and Consumer Commission 
Fair Work Ombudsman
Australian Small Business and Family Enterprise Ombudsman
Register now to be part of this important event.
You can find more ASIC resources for small business on our website.
Upcoming events
We are attending the following events in the coming months. Feel free to drop past for a chat or to ask a question.
Bizlinks Expo: 13 June – The Bizlinks Expo - Mount Gambier (SA) gives people the opportunity to speak with government agencies about compliance, business growth, registration and licencing, training, safety, staff responsibilities and dispute resolution.
Sydney B2B Expo: 28-29 June – The Australian Business Forum is organising the Australia Post B2B Expo, held in Sydney on 28-29 June. The forum is aimed at small and medium sized enterprises, and is a great place for businesses to showcase their products and services, connect with government and key industry associations, discover new start-ups, innovative trends and solutions.
Franchising and Business Expo: 22-23 July - The Brisbane Franchising and Business Opportunities Expo gives people the chance to talk face to face with franchisors and successful franchisees across a range of different businesses. (22-23 in Brisbane; 26-27 August in Melbourne)