InFocus March 2015 - Volume 24 Issue 2
Contents
Join the 135,000 people who search our registers daily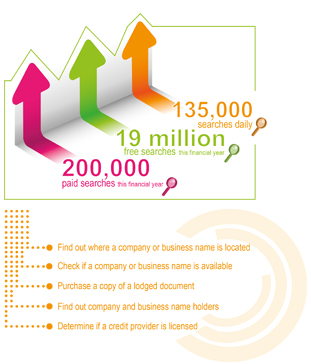 With over 19 million free searches and 200,000 paid searches already conducted this financial year, our registers are once again proving to be very popular.
But why do so many people search our registers? There are many reasons, including:
To find out where a company or business name is located
Check whether a company name or business name is available for registration
Purchase a copy of a document lodged by a company
Find out company and business name holders
Determine if a credit provider is licensed
This issue of InFocus shows you why so many people search our registers and the different methods you can use to find the information you need.
Search online – in different ways
For your convenience, there are a variety of ways you can search our registers – online!
ASIC Connect Search is our online search service. Through ASIC Connect Search, you can access free company and business name information, or purchase more detailed company information using your credit card. Our website highlights the difference between our free and paid products. Most of the business name information you need is available for free!
You can search on the go with our smartphone app - NZAUConnect. This gives you access to free information from the ASIC and New Zealand company registers.
Data.gov.au now contains over 2.2 million business names and 2.5 million company records which you can search for free! This data is updated on a monthly basis.
Information brokers can also provide you with information from ASIC's registers. Each information broker has their own unique product offerings, and they often package our data with information from other sources. 
Financial Advisers Register - coming soon
A new register of financial advisers will be released via ASIC's MoneySmart website on 31 March 2015.
This register is an important new tool that will allow consumers to check their adviser is appropriately authorised to provide financial advice. Consumers should check this register prior to choosing a financial adviser in Australia.
We are currently working with Australian Financial Services Licensees and authorised representatives to assist them in providing the information they need to include on the register (as per the new regulations).
Make sure you keep up to date with the latest information on this new Register by visiting our dedicated Financial Advisers Register web page.
NZAUConnect – search on the go
Did you know you can search our registers on the go with our smart phone app?
Launched in August 2013, NZAUConnect gives you access to almost five million organisations across Australia and New Zealand from your smart phone or tablet. You can also save your searches and share your results by email.
Information available includes:
organisation name
registration status
registration number
principal place of business.
Checking name availability
Registering a business name or company? One of the first steps you need to complete is to find out whether the name you want to register is available.
A check name availability search determines whether your proposed company or business name is identical (or similar) to a name that is already registered or reserved with ASIC.
A proposed name will be rejected if it is considered identical to an already existing name, similar to an existing business name (for business names) or uses restricted words.
More information on our name availability rules can be found on our website.
Check business name availability.
Check company name availability.
Remember you should also make sure your proposed name doesn't infringe on any trademarks. Check at IP Australia.
Before entering a business relationship, do your research
Did you know you can search our registers for a person who has been disqualified from managing a corporation, or banned from practising in the financial services or credit industry?
This is particularly important before entering a business relationship.
Our Banned & Disqualified search includes information from the following registers:
disqualified persons register
credit banned/disqualified register
Australian financial services (AFS) banned/disqualified persons register
banned securities representatives register (pre-AFS licences)
banned futures representatives register (pre-AFS licences), and
disqualified SMSF auditors.
Search for a banned and disqualified person now.
Jargon buster… Professional registers
When searching through ASIC Connect you may see the term 'professional registers'. But what exactly does it mean?
Searching our professional registers provides you with information about the following people and organisations:
Australian financial services licensees
Australian financial services authorised representatives
credit registered persons
credit licensees
credit representatives
registered liquidators
official liquidators
registered auditors and
pre-FSR licensees and authorisations.
All information contained in our professional registers is available for free! No information is available for purchase.
Conduct a professional registers search.
Five minutes with… Debbie Cowley, Manager, Communications and Engagement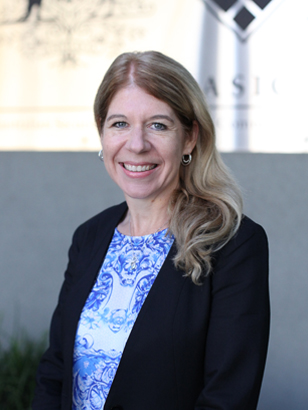 Find out more about our communication products and external engagement activities when we speak to Communications and Engagement Manager, Debbie Cowley.
My role is... Manager of the Registry Communications and Engagement team.
Day to day... I am responsible for developing, reviewing and approving internal and external communication products, such as website content, user guides, newsletters, external presentations and managing our social media activities. I prepare and review papers and briefs, attend meetings when required, but a lot of my time is spent supporting and leading my team (who produce great communication products such as Infocus)!
I also work with... representatives from other government agencies, industry groups, our strategic stakeholder groups and senior managers within the Registry. You can often find me or a member of my team at small business events delivering presentations on business name and company registration and compliance requirements.
I use the NZAUConnect app... to search for companies and business names that I am interested in! It's a great app which allows me to search on the go! It's simple and quick to use!
The best feature of ASIC' search services... You can search our registers online whenever you need to. There are a variety of search services available and they are simple to use.There is a lot of useful information available for free, particularly in relation to business names! You can find out whether a business name is registered, where it is located, who holds the name and how they can be contacted at no cost! A lot of our information, including basic company information is available for free.
My autobiography would be titled… 'Youngest child - the real story!' or something like that!!!