InFocus March 2016 - Volume 25 Issue 2

Contents
Unlocking the information in ASIC's registers
If you're dealing with a business or a company, information from our registers can help you make informed decisions.
To date, this financial year, more than 15 million free searches and almost 240,000 paid searches of our registers have taken place.
This month's InFocus shows you how our registers can help you find information, the differences between free and paid information and where to search for charities.
Searching – why and where
There are many reasons you may wish to search our registers, like finding information on businesses/companies you're dealing with.
There are different ways to search:
ASIC Connect: You can use the ASIC Connect Search website for free and paid searches across ASICs registers
NZAU Connect: You can access our information on the go with the NZAUConnect mobile app
Information Brokers: There's also Information Brokers, who offer a range of products with value added information from other sources.
Has your document been processed?
Not sure if a document has been processed? Here's a quick way to tell.
To check, search the company on our registers. You can get a list of documents lodged by a company free of charge.
Do you have to pay for company and business name information?
Most business name information is available through ASIC Connect at no cost. Some company information is also available free. 
More detailed business name and company information is available for purchase using your credit card.
More ASIC information on data.gov.au
ASIC now uploads datasets for six of our registers to data.gov.au monthly.
Data.gov.au gives the public an opportunity to view and use data to conduct research or develop new products and services.
The datasets ASIC currently has available for download are:
Companies
Business Names
Financial Advisers
SMSF Auditors
Credit Licensees and
Credit Representatives.
Visit data.gov.au to learn more.
Need more information on a charity? Search the ACNC
Next time you want to find out more information on a charity, make sure you search the Australian Charities and Not-for-profits Commission (ACNC) Charity Register.
The ACNC is responsible for the registration of organisations as charities. While ASIC does hold information on the company linked to the charity, the most up to date information on the status of the charity will be found on the ACNC's Charity Register.
We're working with the ACNC to help the business community understand the use of the registers.
More information is available in this media release.
In business? Download the new PPSR small business guide
The Personal Property Securities Register Business Guide is a comprehensive new resource for small business owners and their accountants, financial advisers and lawyers.
The guide raises awareness of the Personal Property Services Act and shows businesses how to manage risk and access secured credit.
Five minutes with… Hayley Close, Analyst, Reporting and Information Products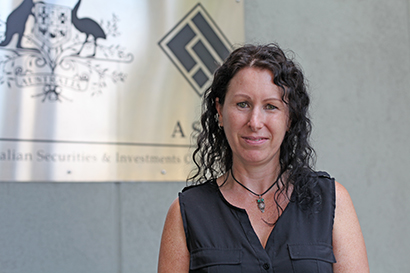 This month, Hayley Close gives an insight into the Reporting and Information Products team. Learn about the work they do to make information on our registers available to you.
My role… involves managing customer enquiries about obtaining information from our registers. On a daily basis I'll assist government agencies, information brokers and the general public.
Our search registers are helpful because… they allow people to access important information. This may be someone looking for a financial adviser or checking the registration of their plumber's business. The registers also help government agencies to access information and complete their responsibilities.
My tips for customers searching… is to understand what you're looking for. Customers often don't see the results they're after because they're searching the wrong register. Understanding the business structure before you search will help.
The best part of working at ASIC… is the opportunity to learn. I have gained extensive knowledge in the five years I have been here.
A documentary that changed my thinking… was Earthlings. I'm passionate about animal welfare and believe raising awareness for this cause is important.