InFocus March 2018 - Volume 27 Issue 2

Contents
Your company officeholder duties
Company officeholders need to make sure they meet their legal obligations under the Corporations Act 2001. This includes keeping accurate financial records, paying your annual review fee, passing solvency resolutions, and making sure your company's details are up to date.
Our website has a wealth of information on:
We've also created a short video to help explain what you need to do as a company officeholder:
Coming soon – company invoices will be available online!
Company officeholders and registered agents will soon be able to get their company invoices online. It's expected we'll be able to start sending online invoices in the second half of the 2018 calendar year.
If you've registered for online access with us, we'll automatically send you an email whenever your company is charged any lodgement fees or late fees. This is similar to how we'll send you a reminder when your company's annual statement can be downloaded.
For our software developers, we will be looking to provide you with the updated EDGE specifications shortly.
We encourage everyone to register for online access now so you can receive your invoices online as soon as they're available.
We'll have more information about online invoices closer to the date.
Business name availability – what's in a name?
A business name registration allows you to trade under a name that's different than your company name or your own name. A business name needs to be renewed every one or three years. Before you register a business name with us, there are some things to consider. This includes making sure the business name is available.
You can check to see if a business name is available to register by using the check business name availability search. When testing business name availability, we apply a series of automated tests to help assess that it:
isn't identical or nearly identical to a name already registered to another entity
doesn't include words or phrases that are 'restricted' or 'offensive', and
doesn't imply a connection to a government or similar organisation.
You can find more information about the tests on our website.
When you check to see if your name is available, you'll get one of three results:
Green - Your chosen name is available to register
Amber - Your chosen name may not be available to register. One of our staff will be in contact with you to advise of the outcome of your application
Red - Your chosen name is not available to register
If the name you want isn't available, we recommend altering your choice so that it differs from any existing names. For example, instead of "Bunch of Apples", try "Sam's Bunch of Apples".
To find out more about business name availability, visit our website.
Industry Funding – what it means for you
From January 2019, and every January thereafter, 47,000 organisations that ASIC regulates across 48 sub-sectors will receive a levy invoice in relation to the previous financial year.
"We believe the move to industry funding will provide a strong incentive for industry to self-regulate because if the wrong thing is done ASIC will intervene, and increase the costs charged to that sector," said John Price, ASIC Commissioner.
While some businesses will be subject to a flat levy, others will be subject to a graduated levy and ASIC will be transparent about these expected costs by publishing indicative levy amounts every year.
To help businesses prepare for the changes ASIC will be sending a letter to every organisation notifying them of their obligations and the steps they must take to prepare in late June.
While the first invoices – covering ASIC's regulations costs of the 2017/18 Financial Year – will not be issued until January 2019, the indicative levy costs for that financial year will be published on March 28th on the ASIC website.   
To find out what you and your business need to do to prepare for these changes, visit our website.
I've made a mistake when I updated my company details. How can I fix it?
If you see an error on your company details, we may be able to correct it. Generally, we will only accept a correction where it's a typographical error or misspelling.
To correct your company details, lodge a Form 492 Request for Correction and provide supporting documentation.
Supporting documentation can be a copy of any company record (e.g. minutes, resolution, file note, memorandum, or letter) which supports the request for correction.
We can't accept a request for correction where we were not notified of an event, such as the appointment of an officeholder, change of address or transfer of shares. In this case, you must lodge a Change to company details online.
The difference between your ASIC key and your corporate key
Before you can update your details with ASIC, you'll need to have your unique 'key'. This is to protect your identity and make sure that only authorised people can review and change your business details.
Your ASIC key is used to link your business name, SMSF auditor, or authorised representative (financial services) to your ASIC Connect account. This is a 'once-off' process; once you've linked your entity, it's permanently added to your account. You can't update your details until you've linked your ASIC key.
Your corporate key is used to register for online access for a company. This lets you view company details, lodge documents, and receive your annual statements online. Your corporate key is sent when you first register your company and with your annual statement each year.
For more information about our online keys and how to request them, visit our website.
Case study – Hayley's Hairdressing – Transferring your business name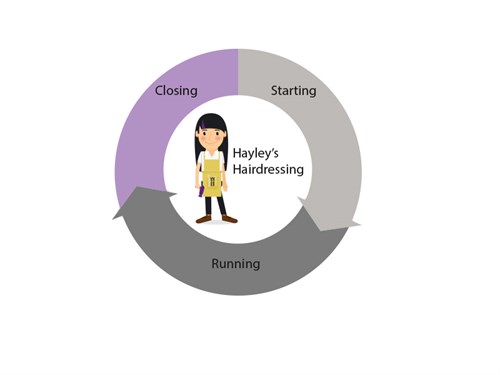 Hayley has been working in her store for a few months and has been busy expanding her business. To help manage all the work, she's planning to turn 'Hayley's Hairdressing' into a partnership with her friend Susan.
While they were applying for an ABN for their new partnership, Susan asks Hayley if they need to update the business name as well. Hayley looks on the ASIC website and sees that as they're going to be trading using a new ABN, they need to transfer the business name to the new ABN.

This is a two-step process:
Applying to transfer the business name, then
Registering the business name with the new ABN details
First, Hayley logs into her ASIC Connect account and starts the transfer by selecting 'Transfer business name'. Shortly afterwards, she gets an email from ASIC with her 'secure transfer number'. Hayley can use this number to transfer the business name to the new ABN.
Once Hayley and Susan are ready to begin the partnership and have their ABN ready, they log into ASIC Connect and begin applying for the business name. Once they enter the name 'Hayley's Hairdressing', they're prompted to enter the secure transfer number they received before.
Hayley and Susan enter the rest of their details and submit the application. Within the next day, they get an email from ASIC that with a copy of their new business name certificate and ASIC key. They can now begin trading under their partnership.
For more information about transferring a business name and what you need to do, visit our website.
ASIC in the media
New professional standards for financial advisers
New requirements for financial advisers are coming soon. ASIC has released more information on our website; the new requirements are aimed at lifting the education, training, and ethical standards in the financial advice sector.
Read more
Westpac remediates credit card customers more than $11 million
Westpac has provided around $11.3 million in remediation to around 3,400 credit card customers after ASIC raised concerns about its credit card limit increase practices.
Read more
ASIC releases report on how large institutions manage conflicts of interest in financial advice
ASIC has released a report on its review of financial advice provided by the five biggest financial institutions. The report identified areas where improvements can be made to better manage conflicts of interest.
Read more