InFocus May 2014 - Volume 23 Issue 4
Contents
Managing your business online just got easier
Managing your business online just got easier. The introduction of our new business name renewal process allows you to renew your business name registration in a few simple steps.
It's designed to make renewing your business name simple, so you can spend more time running your business, and less time administering it.
If you have received your renewal notice you can visit our website and Pay now.
Renewing your business name isn't the only update you can make online.
Through our online service, ASIC Connect, you can update your business name details.
You can also make updates online for companies through our online lodgement service.
This issue of InFocus is all about meeting your obligations with us and the benefits of doing so online.
Keeping your business name details up-to-date is good business practice!
Keeping your details up-to-date is important. Not only does it help us notify you of your obligations, but it also supports confidence for the general public who search our registers to see who sits behind a business name.
Changes to your business name details must be notified to us within 28 days.
You can check whether your business name details are up-to-date by completing an ASIC Connect Search or logging into your ASIC Connect account.
You'll need to make sure the following details are correct:
Business name addresses,
Business name holder details,
Representative details, and
Partners from a partnership.
All business name details can be updated through ASIC Connect.
Step-by-step user guides are available to help you through.
Company details need updating? Try our online lodgement services
Are your company details up-to-date? Try our online lodgement services, instead of printing off a paper form, filling it out and mailing it in.
First you'll need to register for online access and accept the conditions of use.
Then you can start making updates to your company online.
Most updates are made immediately and can be seen on the public register straight away.
Help us help the environment, get your company annual statement online now
If you're a company officeholder or registered agent, you would already know you need to pay a review fee each year to keep your company registered. But did you know that if you use our online services your company annual statement will be sent straight to your online inbox?
Getting your annual statement online avoids mail delays, making sure you get it on time, helping you to avoid late fees. Plus, you can feel good about helping us help the environment.
To receive your next annual statement online, register now for our online lodgement service.
Once you receive your annual statement:
Check the information on the statement,
Notify us of changes within 28 days, for any details that are not up-to-date,
Pay the review fee shown on the statement within two months to avoid late fees, and
Pass a solvency resolution within two months.
Jargon buster...Corporate key versus ASIC key
Ever wondered what the difference is between a corporate and ASIC key? Here we'll explain it to you.
The corporate key is associated with a company, while the ASIC key is related to business names.
The two can't be used interchangeably. If you have a company and a business name, you'll need to use both the corporate and ASIC key at different times, depending on what you're updating.
Every company is issued a corporate key when they register. After that, it will appear in the top right corner of the annual company statement.
Business name customers are issued an ASIC key when they register or renew.
Small business owners - have your say now!
Do you own a small business? We want to hear from you!
Tell us what you think of our service, the type of information you obtain and how useful it is through our small business survey.
Your feedback will help shape our priorities and improve our service.
Five minutes with... Michael Pizzi, Customer Service Consultant, Customer Contact Centre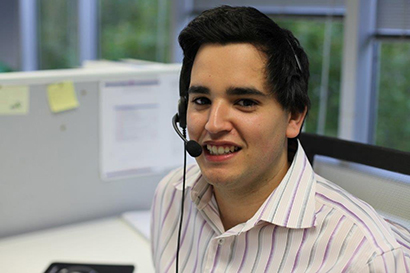 Our call centre still remains the first contact point for many ASIC customers. Customer Service Consultant Michael Pizzi shares an insight into day-to-day life in our Customer Contact Centre.
My team is: responsible for answering business name calls and enquiries from customers.
Day to day: I answer business name queries by showing customers where to find information on our website and assisting them to complete business name transactions online. Lately, I've also been involved in refreshing our call menu options.
The most common customer query is: how do I renew my business name? I'm happy to tell customers that we now have a new Pay now service.
Pay now has helped: as customers are able to complete their business name renewals a lot quicker. The process is more streamlined for them - and us.
Best feedback received from a customer: was about how professional our staff are and how our call centre was the most helpful they've dealt with.
Outside of ASIC, you'll find me: studying my Bachelor of Business and Commerce, completing my 12 week gym challenge or auditioning for Big Brother!