InFocus May 2018 - Volume 27 Issue 4

Contents
Thinking of registering a business name? Make sure it's available
If you're thinking of registering a business name, you can use our 'Check business name availability' search to see if it's available.
You won't be able to automatically register a business name if:
it's identical or nearly identical to a name that's already registered
it's 'undesirable' (for example, it's considered offensive)
it contains a 'restricted' word or expression like 'charity' or 'police', or
it includes invalid characters, like umlauts (ä)
When you check to see if your name is available, you'll get one of three results:
Green – The name is available and you can apply to register it.
Amber – You can apply to register the name, but we'll have to review your application to make sure that it's available.
Red – The name is not available.
For more information about the business name availability rules and the tests we apply, visit our website.
We're cancelling 30,000 business names that haven't renewed with ASIC
ASIC is cancelling 30,000 business names that are due for renewal. If your business name is being cancelled, we'll send a letter to the business name's service address to let you know.
If you receive a notice but want to stop us from cancelling it, you'll need to renew it. The easiest way to renew is to use our online 'Pay now' service. You'll need your account number (which will be on your notice). You can then select whether you want to renew for one year or three years, and pay by credit card, BPAY, or invoice.
For more information about renewing your business name, visit our website.
Our online document numbers are changing
From the end of May 2018, we're changing how our document numbers look for our online portals and EDGE. A document number is a unique number that's assigned to each lodgement so we can keep track of it.
The new document numbers will be assigned in order and will range between xEAAxxxxx - xEZZxxxxx (where 'x' means a number from 0-9). For example, a new lodgement might have the document number 0ERS02529 or 5ET38275.
We're updating our document numbers to help keep our systems running effectively and prevent any issues from 'running out' of numbers. To date, we have over 10 million records on our registers and have issued almost 40 million document numbers.
A reminder to be wary of scam emails claiming to be from ASIC
Some customers have recently received emails from scammers asking them to renew or transfer their business name. These emails have links that customers can click on for more information, which may infect your computer with malware if opened.
An email is probably not from ASIC if:
it asks for your credit card or bank details directly by email or phone
it does not address you by your name or business name, or
the sender's address does not end in '@asic.gov.au'.
To help protect yourself, we strongly recommend keeping your anti-virus software up to date and avoid clicking on any links in suspicious emails.
For more information on how to protect yourself from a scam, visit our website.
What is a company resolution?
A resolution is a formal way in which a company can note any decisions that are made at a meeting of company members. Under the Corporations Act 2001, most of the decisions that affect a company need to be made by a resolution. A company's constitution may also have its own rules about what decisions need to be made by resolution. 
There are two types of resolutions:
Ordinary resolutions – These resolutions only need a simple majority to pass (e.g. more than 50% of votes in favour to pass). Some decisions that usually can be made with an ordinary resolution include appointing an auditor, increasing or reducing the number of officeholders, or accepting a report at a general meeting. 
Special resolutions – The Corporations Act lists a number of company changes that need to be made with a special resolution. Special resolutions can only be passed with 75% of votes cast in favour at a meeting, and 100% of votes are needed to pass a special resolution without a meeting. Some changes that require a special resolution include changing a company name, voluntarily deregistering a company, or modifying a company's constitution. 
For more information about company resolutions, visit our website. 
Case study – B&L Building Pty Ltd. – Closing your company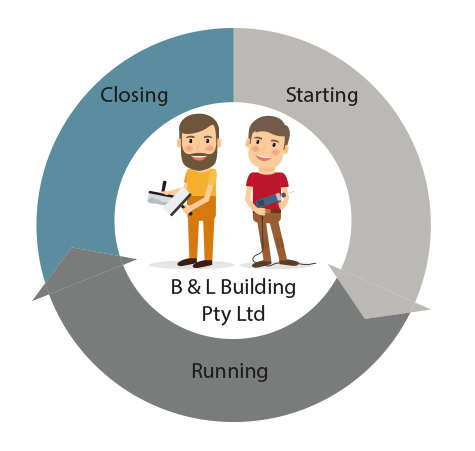 Brad and Luke have decided to close B&L Building Pty Ltd. and focus on their own projects. They want to know how to tell ASIC they are no longer trading. 
Brad and Luke visit ASIC's website to learn how they can apply for voluntary deregistration. Brad and Luke are officeholders of B&L Building Pty Ltd and the sole members.
The company must meet certain criteria before it can be deregistered and all members of the company must agree to deregistration. This includes making sure that the company doesn't owe any fees and its assets are worth less than $1000. For a full list of requirements, visit ASIC's website. 
Brad and Luke go through the list and make sure that the company meets all the requirements. Once done, they lodge an Application for voluntary deregistration of a company (Form 6010).
Once they've lodged online and paid the application fee, the company's deregistration is processed and a notice is published on ASIC's Published notices website.
Two months after the notice is published, the company is deregistered. Brad and Luke receive a notice from ASIC confirming that their company has been deregistered. 
For more information about voluntary deregistration, visit our website.
A final note
This is the last case study in our series that has been published over the past few months. If you liked our topics or have any ideas for what else you'd like to see in this space, we'd love to hear your feedback. Please get in touch at infocus@asic.gov.au 
Events for May
Start Me, Grow Me Small Business Forum – 10 May 2018
The Government Business Education Network (GBEN) is holding a Small Business Forum in Moonee Ponds, Melbourne. Come along and learn about programs, grants and resources that can help your business.
Bunbury Bizlinks Forum – 15 May 2018
Bunbury Bizlinks Forum is a free information session held in Bunbury that gives small business owners a chance to speak with local, state, and federal government agencies. ASIC, ATO, and ACCC will all be on hand to answer any business-related questions.
Queensland Small Business Week (QSBW) 28 May – 1 June
QSBW celebrates the vital contribution small business makes to Queensland's vibrant economy.
Each year, QSBW provides a range of opportunities for small business owners to network, connect, and learn new skills and tools that will help them succeed.
Read more
Small Business Webinar – 7 June 2018
If you are interested in what government is doing to help small business, there will be a free and interactive webinar held on 7 June 2018. Join ASIC, other government agencies and small business owners to discuss the top things to watch out for and other relevant topics. 
For more information, stay tuned to ASIC's Small Business Hub, Twitter or Facebook page.