InFocus November 2014 - Volume 23 Issue 10
Contents
New-look ASIC website
Our new-look ASIC website is now live! The changes to our website make it easier to find the information you need.
The website is customer focussed, with three main tabs:
'For Business'
'For Financial Professionals'
'For Consumers'
Other changes you'll notice are:
responsive design for improved viewing on mobile and tablet devices
enhanced search functionality
making important information visible and easy to find via new navigation pages, and
accessibility improvements for low vision customers and people who use screen-reader technology
We've received some great feedback from customers about our updated website. Here's some examples

Positive results as more Registered Agents move online
In October we encouraged some of our largest paper lodgers to move online. This move is part of a new initiative to increase online lodgement and improve service efficiency.
As a result, Registered Agent online lodgement has increased by 50% for four of our most common notifications:
Change to company details (Form 484)
Application for voluntary deregistration of a company (Form 6010)
Notification of resolution to change company name (Form 205A)
Notification by a company to nominate or cease a registered agent or contact address (Form 362)
Lodging online is a quick and easy way to keep your details up-to-date, and also saves you time and money.
Feedback from Charles Baird from Ashurst - Australia shows how moving to our online services can benefit you.

Not online? Check out our FAQ's or email us at askus@asic.gov.au for more information.
For those who have already moved online, thanks for your ongoing support!
Interesting information from our Registers
Ever wondered what a typical Australian company looks like? Or how old some of the companies on our Registers are? Here we reveal some interesting information from our Registers.
A typical Australian company has:
been operating for around 11 years
approximately two directors
approximately two shareholders
A number of companies have been operating for many years, with:
More than 1,300 companies over 85 years old
More than 400 companies over 100 years of age
One of our oldest registered companies registered on 21 April 1883 and operating for over 131 years
Don't look for a certificate - search online instead!
Did you know a business name holder no longer needs to display a certificate of registration for a business name?
The introduction of legislation in 2012 removed the need for businesses to display a certificate of registration. However, some businesses may choose to display the ASIC record of registration that we issue upon successful business name registration and renewal.
Businesses are still required to display their business name prominently in places they are open to the public.
If you need to check the registration of a business name, the quickest and easiest way is to search ASIC's National Business Names Register.
You can do this using ASIC Connect Search, which provides information on the current status of registered and cancelled business names in Australia. 
Get your lodgement right the first time
Lodging online is the most efficient way to update your information.
However, in the unlikely event that you have to lodge in paper, you can avoid a request to provide more information. Here's how:
Sign the form – don't use a photocopied signature
Clearly write the current corporate key (if required)
Complete all required fields
Pay any associated lodging fee
Making sure your information is right the first time saves you time and also ensures our Registers can be updated quickly.
Five minutes with…Melissa Antonelli, Senior Manager, Registry Operations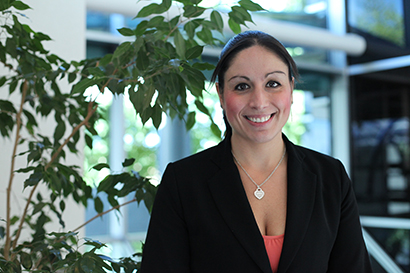 While a large part of our Registry work involves processing updates to our Company and Business Names Registers and answering Registry related inquiries, there is a lot more that we do. Registry Operations is responsible for responding to customer referrals, reporting, communication and stakeholder engagement for the Registry. This team is led by Senior Manager, Melissa Antonelli.
I've been at ASIC for over 12 years and started… on the Graduate program in 2002 in a team called PATS (Policy and Technical Services) at the Traralgon office.  It was a great place to learn about ASIC's business operations, the laws we administer and the policy that supports it.
My role now… is acting Senior Manager of Registry Operations. Registry Operations has responsibility for the governance and operational support for a variety of registry services, including our online channels.
The best part of working at ASIC is… the variety and challenge of the work and definitely the people!
In the last few months my area has…
Released a range of new YouTube videos and tutorials that provide short, sharp and up -to date information.  Topics include registering and renewing a business name. We also launched a number of tutorials that visually step you through common transactions in ASIC Connect. Check them out now.
Made available datasets from ASIC's companies register on the Australian Government's Data.gov.au website. Shortly, we will extend the datasets to include freely available information from ASIC's Business Names Register.
Assisted with the launch of the new look ASIC website www.asic.gov.au
Provided many Registry updates to you via our social media channels, including Facebook and Twitter.  Sign up to our social media channels now.
My biggest achievement at ASIC… was having the first team I ever managed at ASIC (the Systems and Online Services team) win an ASIC Australia Day award in 2010 for delivering services to customers and exceeding expectations when managing complex situations. 
My biggest personal achievement is running the full Melbourne Marathon in 2012 after setting myself the challenge on the 1st of January that year.
Organising an ASIC project… is harder than planning a wedding!!!