InFocus November 2017 - Volume 26 Issue 10

Contents
Looking for information on a business? Try searching our registers
As a business owner or consumer, it's a good idea to protect your interests when dealing with a business.
If you want to know more about a business before transacting, our registers are a great place to look.
If you search for a business name on our registers, you can find information about:
who owns the business
where it's located, and
when it was registered as a business
On our company register, you can also find out what documents a company has lodged recently and historical details, like previous addresses, names, or officeholders.
If you're interested in our data on a wider scale, you can download copes of the datasets from data.gov.au in a number of different formats.
Search our business names register.
Search our company register.
Build your business, protect your brand
It's a common misconception that registering your business or purchasing a domain name is the same as a trade mark. It's not! To make things a little clearer, we've collaborated with IP Australia and business.gov.au to help you understand some of the differences.
To start and run your business in Australia, if you're carrying on business under a name that is not your own name, you must register it as a business name or company with ASIC. You can search for existing names and apply for your own using ASIC Connect. However, registering a business name does not give you the exclusive rights to use that name or any part of the name and it won't stop others from using a similar name.
Domain names are issued by private internet companies and registered by the .au Domain Administration. The purpose of a domain name is to secure the web address (url) only, and does not protect the name. It's also a good idea to check the social media channels you plan to use for your business, such as Twitter handles and Facebook user names, to make sure they're available.
Trade marks are administered by IP Australia and are a valuable marketing tool. If you're confident that you've chosen a business name or company that is not already taken or protected, registering it as a trade mark will give you exclusive rights to use, licence, or sell the mark.
Now that you know there are different processes involved to register and your business name or company, domain name and trade mark, you're in a better position to build your business and protect your brand. You'll also avoid the mistake of infringing on someone else's trade mark, which could lead to legal costs or having to rebrand and start your business from scratch.
Registered agents – what documents must I lodge online?
As an ASIC registered agent, you may need to lodge documents on behalf of a company to help the company meet its obligations under the law. You can do this by using our online services.
Registered agents must lodge the following documents online:
For more information about registered agents and other documents you can lodge online, visit our website. 
Selling your business? Here's how to register your name to the new owner
When selling your business, you may need to cancel your business name so it can be registered by a new business owner.
Usually, a cancelled business name cannot be registered to a different business owner for 6 months after the cancellation date.
Transferring a business name allows immediate registration of the cancelled business name to a different business owner. 
Transferring is a two-step process that involves the current business owner and the new business owner:
Step 1 – The current business owner applies to transfer their business name and receives a transfer number from ASIC. They then give the transfer number to the new business owner.
Step 2 – The new business owner applies to register the business name using the transfer number.
It's also the same process when a business is changing its structure (example: going from a sole trader to a partnership). Once you have the transfer number, use it to register the business name to the new entity with an Australian Business Number (ABN).
For more information about transferring your business name, visit our website.
New podcast – ASIC's approach to small business
In the latest podcast, ASIC Commissioner John Price joins us to discuss ASIC's approach to small business, including ASIC's 2017-2020 Small Business Strategy.
Company case study – B&L Building Pty Ltd – Signing up for online access
We're always looking for new ways to provide content to help you or your clients meet their obligations with ASIC. Over the next few issues, we will include case studies to explore what business name and company holders need to do with ASIC.

This month, we check in with Brad and Luke to see what they're up to: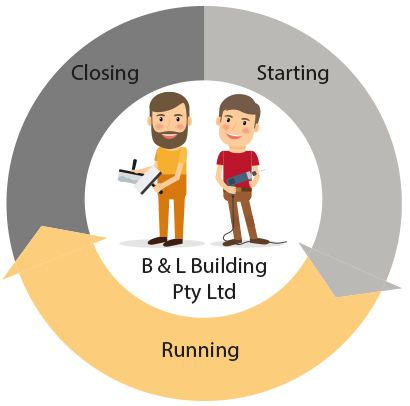 Brad and Luke run their company and often ask their accountant to help manage the paperwork and administration side of things. However, they also like to know what's going on and be aware of their company's obligations.
As a good way to manage their company details, Brad and Luke register for an online account with their corporate key. The corporate key was sent out with their certificate when they first registered 'B&L Building Pty Ltd.'.
Once they've registered for online access, they can go online to update their details, check their account balance, or lodge financial statements. They'll also get an email reminder when their annual review package is available.
For more information about creating an account, visit our website. 
ASIC in the media
Industry Funding: Cost Recovery Implementation Statement released
ASIC has released the Cost Recovery Implementation Statement (CRIS), which includes estimated costs for ASIC's 2017-18 regulatory activities. The CRIS is part of ASIC's commitment to transparency under industry funding, which took effect on 1 July 2017.
Consultation on reforms to address illegal phoenixing
The Hon Kelly O'Dwyer MP, Minister for Revenue and Financial Services, has released a paper for public consultation entitled 'Combatting illegal phoenixing'. The consultation paper proposes reforms to corporations and tax laws to deter core behaviours of phoenix operators.