InFocus October 2014 - Volume 23 Issue 9
Contents
Now interacting with you in different ways online
We're finding new ways to interact with you as we continue our journey to move our registers and transactions online.

Our new registry videos, explaining some of our most popular business transactions, are now available on YouTube. We've also updated our business names guide, including handy flowcharts and graphics.

Our Company Register is now available online through data.gov.au, giving you easy access to over 2.5 million rows of company data free of charge.

We also have an update on the move to online lodgement for our Registered Agents.
Online lodgement for Registered Agent
ASIC Registered Agents are expected to interact with us using our online lodgement services. Our agents have generally demonstrated a strong ability and commitment to lodging online.
From 1 October 2014, Registered Agents will be required to lodge the following forms online:
Form 484 -

Change to company details

Form 6010 -

Application for voluntary deregistration of a company

Form 205A -

Notification of resolution to change company name

Form 362 -

Notification by a company to nominate or cease a registered agent or contact address
This change is part of a long term vision of moving our transactions online.

Registered agents may experience a data or online lodgement issue for a small number of transactions (sub-forms). For these transactions you will need to submit a Request to Lodge Documents via email.

Need help getting online? Check our FAQ's or email askus@asic.gov.au for more information.
We're now supporting you on YouTube
Late last month, we released a series of videos to help you use our online services.

The videos demonstrate how to complete common transactions online, such as registering and renewing business names.

The videos have been developed to engage and connect with business owners in an interactive, modern way. They build on other resources recently released, including our business checks smartphone app.

We've also turned a number of our user guides into handy tutorials. These tutorials take you through some of most common business name transactions step-by-step.

Watch them now on YouTube.
New, improved business names guide
Need more information on our National Business Names Register? Check out our new guide, Making it easier to do business.

The guide includes useful information on how to:
register a business name

renew a business name

update business name details

cancel or transfer a business name

searching the Business Name Register.
The guide includes key business names information in one easy location. Handy flow charts are included to step you through the common business names transactions.

You'll also find links to more information on our website and other helpful resources.

Download the guide now.
Search our Company Register online through data.gov.au
We're committed to making our registers accessible and cost effective for the public. Our Company Register is now available online through data.gov.au, giving you easy access to over 2.5 million rows of company data free of charge.

Only information that doesn't breach privacy laws will be available. All data can be viewed for free.

Consumers have the opportunity to take data from this service and develop new products and services.

Data from other registers may be published later.

Visit www.data.gov.au
Jargon buster...ASIC Connect
If you're a business name or self-managed superannuation fund (SMSF) auditor customer, you would have heard of ASIC Connect.

ASIC Connect is our online service for interacting with our registers.

We have three services currently available through ASIC Connect:
business names

SMSF auditors, and

search - companies, business names, SMSF auditors and other registers.
Don't have an account? You can create an account with a username and password or log in with your AUSkey.
Five minutes with...Steven Scott, Senior Manager, Customer Contact Centre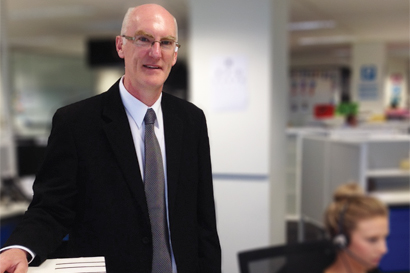 Call Centre management has changed significantly over the years, and we are continually looking at better ways to help our customers. Customer Contact Centre Senior Manager, Steven Scott, gives a glimpse into the busy, dynamic nature of the call centre.

My role involves… making sure we provide the best level of customer service. This draws on many skills including strategy and planning, leadership, operational management, people management and financial management. There is always a better way of doing things and I need to understand how the call centre industry is evolving.

My management style… has definitely changed while I have worked in the CCC. When I commenced with ASIC, my style was more aligned with operational and people management. These days, I'm more about situational leadership. In this environment I need to know what is going on in the short term (the operations), the medium term, (preparing for what is coming our way) and the long term (strategic planning such as emerging customer contact channels).

Our call centre technology improvements… enhance the experience for both customers and staff alike. Customers can now request a call back in busy times and the call menu is now easier to navigate. We're also providing the option to complete a survey after a call, enabling customers to rate their experience and provide suggestions for further improvements.

It's really important for us to look after our people… and our motto is the "CCC is the place to be". We have a ' Rewards and Recognition' program, an Events Committee who organise social activities, and a Health and Wellbeing program that promotes healthy lifestyles. We encourage staff development with various training courses and opportunities to act in different roles.

I am inspired by… Our vision of:
1) making the CCC a better place to work, and
2) improving our customers' experience with us.
Personally, I am inspired by those 70 and 80 year old people who are still out there jogging and cycling. I enjoy walking, cycling and running and I still want to be fit when I'm that age. Work is one thing; however, family is really important to me and it is hard to beat family time.