InFocus October 2015 - Volume 24 Issue 9

Contents
In this edition
This month we cover a range of topics about charities and updates to the financial adviser and authorised representative registers. We also look at what we are doing to improve our website content and how you can provide feedback.   
Financial adviser and authorised representative registers - end of transitional arrangements and online improvements
From 1 October 2015, new fees and notification periods apply for the financial adviser and authorised representative registers. Changes include:
Licensees have 30 business days from the effective date of change to notify appointments or updates
A $29 fee will apply to update representative details or cease a representative
A $75 late fee will apply when a notification is less than one (calendar) month late
A $312 late fee will apply when a notification is over one (calendar) month late
Improvements to online services
To help customers meet their obligations, we have updated our online services. All changes for financial advisers and authorised representatives can now be notified online using ASIC Connect.
Additionally, the controlling entity for an AFS licensee can now be notified through the AFS licensee portal using the Change of details (Form FS20).
Further information about the end of transitional arrangements and our online services is available at www.asic.gov.au/far. 
Our charity's details have changed... who should we tell?
The Australian Charities and Not-for-profits Commission (ACNC) is now responsible for the registration of organisations as charities.
As a result, some reporting obligations with ASIC have been removed, including the need to update addresses and company officeholder details. Companies can however choose to update this information to ensure all publicly available information is consistent.
As a general rule, you must update ASIC with anything relating to your corporate status, like:
Company name
Auditor resignation or removal
External administration, or
Winding up or deregistering your company.
The ACNC must be updated for anything relating to your charitable status.
More information is available about the reporting requirements for charities registered with the ACNC.
Find out more about a charity before making a donation
By searching the Australian Charities and Not-for-profits Commission's (ACNC) register, you can find out more information on a charity before you make a donation. The charities register is held by the ACNC and includes current information on registered charities in Australia.
Anyone donating should also be aware the move to the ACNC has changed the obligations charities have with ASIC. It's no longer a requirement for charities to update ASIC with company officeholder and address changes.
ASIC does however still hold information on the company linked to the charity. The most up to date information on the status of the charity will be found on the ACNC's charity register.
Registry information - what would you like to see?
While much of the information on ASIC Registry responsibilities has remained consistent over the years; the way we consume information has changed dramatically.
Over time the Registry is working to streamline our website content to remove old or outdated sections, avoiding legal jargon and providing additional support to assist with your obligations.
We are always looking to improve your experience with the website, our content and online services.
The Registry is keen to hear your thoughts on what works, what could be improved or other suggestions to assist when interacting with our information and services.
Keen to provide feedback? Email us.
Five minutes with… Jessica Ryan, Communications Officer, Registry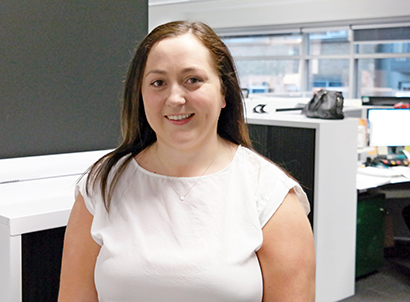 From our website, social media profiles, YouTube videos, user guides and publications like InFocus; there's a range of ways for Registry customers to keep up to date with ASIC. Find out more from Registry Communications Officer, Jessica Ryan.
As a Communications Officer ... I am responsible for our ASIC Connect social media profiles as well as creating and publishing content for the ASIC website.
My favourite part of my role is… working with a team that continually comes up with new ideas. As a team we collaborate and develop some great solutions to problems our customers face. I also really enjoy knowing that the work I do helps make a difference in the way customers interact with us.
Social media is the way of the future because ... it's changing the way customers interact with business. It's no longer just about networking and keeping up with the latest from your friends and family. It has transformed into a platform for engaging with brands and a new customer service channel.
One of the most common questions we are asked on social media is... How do I renew my business name? My answer is - use ASIC's Pay now service to quickly pay your business name renewal.
My best ASIC Registry tip is... when applying for a business name; make sure you enter your ABN without any spaces.
My biggest fashion crime … the way my mum dressed my older sister and I in matching outfits. Hers were pink, mine were blue.