InFocus October 2016 - Volume 25 Issue 9

Contents
Which online system should I use? 
ASIC provides online services for both businesses and companies. 
Business name holders and authorised lodgers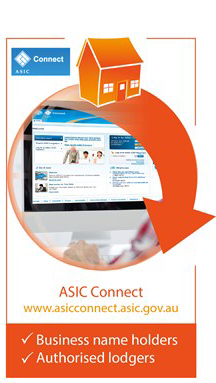 If you're a business name holder or authorised lodger, you can use ASIC Connect to manage your business name details.
Once you are registered for an ASIC Connect account, you can register a business name or renew your existing registration. You can also update your details, including business name holder details and business addresses.
If you have more than one business name, you can manage them all from the same account.
Company officeholders and registered agents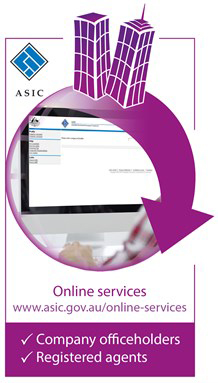 If you're a company officeholder or registered agent, you can use our online services to manage company details.
When you register for our online services you'll be able to lodge documents online and view company information from your account. This includes your annual statement, company addresses and current officeholder details.
If you're an officeholder for more than one company, you can manage them all from the same account.
Watch our video on how to update your company details online.
If you manage both a business name and company registration, you must register for an ASIC Connect account as well as our online services.
Use the right key to manage your account
Corporate key, ASIC key and AUSkey may sound similar, however each have a different use.
The corporate key is used to register for online access. It will be mailed to you or your registered agent when you register your company for the first time. If your company is already registered, you can find your corporate key on the top right-hand corner of your latest company annual statement.
The ASIC key is used to link your business name to your ASIC Connect account. Your key will be emailed to the address you provide when you register or you can find it in the middle of your annual renewal notice.
The corporate key and the ASIC key can't be used interchangeably. If you have a company AND a business name, you'll need to use both at different times.
The AUSkey can also be used to log into your ASIC Connect account. If you have an AUSkey, you won't need to sign up with a username and password. AUSkey also removes the need for an ASIC key to be used when linking your business name registration.
Tips for entering your ABN when registering a business name
When you register a business name, you need to provide an Australian Business Number (ABN). Here are a few tips to remember:
You can check your ABN name and details on the ABN Lookup at abr.business.gov.au. If you need to change any of these details, contact the Australian Business Register (ABR) before you apply for your business name.
You must enter your ABN as a single 11-digit number (no spaces between numbers).
If you have any problems when entering your ABN, try cancelling your transaction and starting a new one.
Visit our website for more information about ABNs.
About to lodge financial statements with ASIC?
October is a busy time for many of our customers, as company financial statements are due.
Why not join nearly 11,000 companies who already submit their financial statements online?
Doing so is quick and easy. You'll also receive immediate confirmation the statement has been added to the Companies Register.
Before submitting financial statements online, make sure:
each attachment is less than 10MB. For information on reducing the file size refer to your software support.
you do not convert documents to a PDF file using your photocopier or scanner. It's better to use a PDF creation program (such as MS Word).
You can submit a maximum of five attachments.
Learn more about how to lodge financial statement and reports.
Start Me, Grow Me Small Business Forum – Camberwell VIC
Start Me, Grow Me Small Business Forums give you access to resources and information to help you start and grow your business.
The next forum will be held in Camberwell, Victoria on Tuesday 8 November at 6.00pm.
Come along and get access to assistance, programs and information from different government and non-government agencies.
In addition to ASIC, agencies including the Australian Taxation Office and AusIndustry will present at the forum.
Links we like
Business.gov.au – if you've got a great business idea, business.gov.au gives you 10 tips to successfully set up your business.
ASIC's MoneySmart – read MoneySmart's tips to freshen up your financial affairs this Spring.