InFocus September 2014 - Volume 23 Issue 8
Contents
This month we're continuing to improve our online resources
We recognise that many of our customers want to interact with us in different ways. That's why we're updating our online resources to help you meet your obligations and improve your online experience with us.
In this issue of InFocus we are excited to tell you about:
our new look website which will be launched by the end of 2014.
new user guides for the company officeholder portal which are available now!
There's also an update on new requirements for online lodgement for registered agents, and we explain how our Pay now service is making it easier for our customers to complete business name renewals.
ASIC website gets a revamp
Keep an eye out for our new look ASIC website. The new website will have a new look and feel and will make it easier for you to find the information you need.
The new website is expected to be launched late 2014.
The new design will have a larger focus on our customers, with three main tabs:
For Business
For Financial Professionals
For Consumers
Other key changes include:
Better viewing on mobile and tablet devices
Improved search functionality
A new 'mega' menu in each tab, providing an overview of key topics, and
Greater accessibility for vision impaired customers and customers with screen reader software.
Online lodgement for registered agents
From 1 October 2014, registered agents will be required to lodge the following forms online:
Form 484 - Change to company details
Form 6010 - Application for voluntary deregistration of a company
Form 205A - Notification of resolution to change company name
Form 362 - Notification by a company to nominate or cease a registered agent or contact address
This change is part of our vision to move our transactions online.
There are many benefits of lodging online, including:
reduced risk of late fees,
reduced fraudulent activity (with our online authentication process), and
the convenience of being able to lodge documents after normal business hours.
You may currently experience a data or online lodgement issue for a small number of these company transactions (sub-forms). In the coming weeks our Registered Agents page will advise how you can send these transactions to us.
Find out more about these changes on our Registered Agents page, or direct any queries to askus@asic.gov.au.
New company officeholder user guides available
Are you a company officeholder? We've just released new company officeholder user guides which guide you through common online transactions.
Lodging online offers you many benefits. There's no paperwork to print, and no postage costs. Updates can be made at your own convenience. Plus when you lodge online most changes are made to the register immediately.
The new user guides provide step by step instructions, including:
How to register for our online service
Logging in
Changing company details
Appointing or ceasing a registered agent
Download our company officeholder user guides now.
Jargon buster...Pay now
If you're a business name holder you will know that you need to renew your business name registration with us every one or three years. But did you know there is a new quick an easy way to do so?
Our Pay now - business name renewal service is located on the right hand side of our website homepage. This service allows you to pay for your renewal in a few simple steps.

To complete and pay for your renewal go to Pay now.
Five minutes with... Mark Woodbridge, Graduate, Registry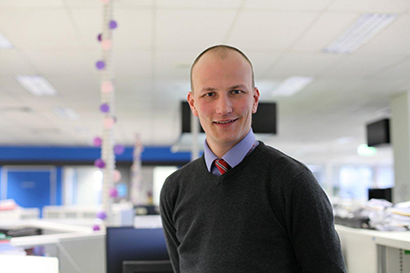 Every year the Registry employs new Graduates, through the ASIC Graduate Program. Our Graduates are rotated through various areas of the business - exposing them to different work types, experiences, leadership styles and providing them with the opportunity to develop new skills. Working in different areas of the business is a great way for Graduates to determine what career path they would like to pursue in the future. Current graduate, Mark Woodbridge, gives us an insight into the daily life of an ASIC Graduate.
My start at ASIC: has been fast-paced and challenging! The breadth of our work means every week is interesting and with so many experts in the business 'networking' (making new relationships) is vital to achieving good outcomes. It is the people at ASIC, that make it a great place to work.
The most interesting work: I have been involved in was a review of internal quality control processes where I recommended some improvements. The recommendations were accepted and are now in the process of being implemented. Undertaking the review was a great learning experience and it gave me exposure to a variety of staff across the business. It's rewarding to see your recommendations being implemented.
The graduate program provides: opportunities to give input into policy decisions, communication strategies, procedures and to participate in projects. I have learned to be adaptable, but also ask lots of questions along the way. The Graduate program offers challenging work and both formal and informal mentoring from managers and other staff. These are valuable for developing new skills and gaining the experience to build an interesting and rewarding career.
The best part of the program so far: is that ASIC managers work hard to open up development opportunities for staff. As a graduate, we are exposed to high-level staff and stakeholders and we can touch projects that impact wide audiences.
I studied: a double degree in Science (Biochemistry) and Business and Commerce (Marketing) at Monash University. The question I get asked most often is 'how do these relate to your role at ASIC?' They don't, but science was a lot of fun and honed my inquiry, analysis and writing skills. The second most popular question is 'do I like the TV series Breaking Bad?' I do.
The best advice I didn't take: during my first week when, being cautious not to overdo 'casual Friday', I turned up in a jacket and tie. The tie didn't last long, but the reminders of my colleagues' lives on.