InFocus September 2015 - Volume 24 Issue 8

Contents
Why your addresses are important
This month, we're getting you up to speed on all things addresses for companies and business names.
If you're not dealing with us every day, it can be difficult to remember all the address information you need to keep up to date, as well as what each address is used for. If you have a registered agent appointed to your company, address updates are equally important.
Keeping your addresses up to date is important so the public can search our registers. While you are required to keep physical addresses up to date with us, we are working to transition delivery of correspondence online. Company officeholders registered for our online services will receive their annual statement packages through the portal and notified via email. Business name holders that have provided us with an email address will receive all correspondence via email.
This month, we also update you on the single business identifier and give an insight into life in our Customer Contact Centre from our ASIC Registry interns. 
Which address is which?
Company and business names addresses are referred to by different terminology.
Businesses name addresses include:
Service of documents
Principal place of business
Email address
While companies have:
Registered office
Contact address
Principal place of business
Residential addresses for officeholders
Address of shareholders of the proprietary company
With so many address types, do you know the difference? More information about business name and company addresses is available on our website to assist your understanding.
Business name address details can be updated through ASIC Connect.
Updates to company addresses can be completed using our online services.
No longer representing a company as a registered agent?
If you act as registered agent for a company, you will receive correspondence on behalf of that company, like the annual statement package.  
If you no longer represent a company as the registered agent, it is important that the following steps take place:
Check the registered office address for the company. Many companies you represent will also have your address listed as their registered office. When you no longer represent them, this will need to be changed or the company will not receive important correspondence from us. To update their registered office, complete a Change to company details online, before ceasing as their registered agent.
Submit a Notification of a registered agent ceasing to act for a company online.
Find out more about registered agents and company correspondence.
Ceasing your registered agent? Follow these steps!
If you are no longer being represented by a registered agent, you will need to follow these steps:
Submit a Notification by a company to nominate or cease a registered agent online to cease the registered agent.
Check the addresses for your company. Many companies will have the previous registered agent's address listed as their registered office. To ensure you receive important correspondence this will need to be updated. To do so, complete a Change to company details online.
If you are appointing a new registered agent, you will need to complete a Notification by a company to nominate or cease a registered agent online.
Find out more about company addresses and receiving correspondence.
Receiving mail from ASIC that's not yours? Here's what to do...
We all know how annoying it can be to receive mail that isn't yours. If this is happening to you, you'll need to withdraw your consent for the company to use your address as its registered office. 
Unfortunately, returning the envelope to us 'return to sender' does not allow us to cease sending mail to the address.
Simply send us an online enquiry stating you 'withdraw consent for the company (include the full name) to use your address as its registered office'. Make sure you also include the address mail is being sent to incorrectly.
More information is available about what to do if you are receiving mail for a company that isn't yours.
Did you know there will soon be a single business identifier for companies?
In the 2015-16 Budget, the Australian Government announced measures to make it easier to register a new business as part of the Growing Jobs and Small Business package.  As part of the package, the Government is planning to reduce the number of business identifiers.
As part of the new measures, from 1 July 2016, the process for applying for registration as a company under the Corporations Act and applying to be registered in the ABR under the ABN Act will be linked.
New companies will be issued with a single numerical identifier, an ABN, as part of their company registration process. A company will be registered for ABN purposes at the same time it is registered as a company under the Corporations Act.
ASIC will no longer give an ACN to a company on registration from this date. Accordingly, new companies will no longer be able to use the ACN as their name. However, a company registered on or after 1 July 2016 will be able to use the ABN in its name.
An existing company will retain all its current numerical identifiers. A company registered before 1 July 2016 will be able to continue to use its ACN under the Corporations Act and will not be required to apply for an ABN if it does not have one.
The Treasury has invited comments on the proposed amendments.  The closing date for submissions is Monday 28 September 2015.
Five minutes with... Emma Wilson and Cameron Bloore, 2015 Interns, Customer Contact Centre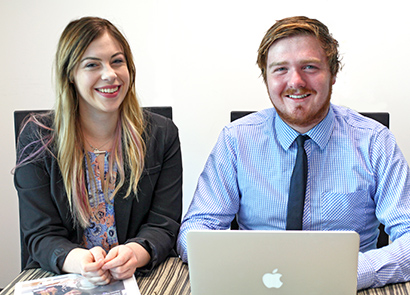 Each year, the ASIC Registry supports students from a local university by providing an opportunity to develop skills in a real work environment. Emma Wilson and Cameron Bloore provide an insight into their experiences from their time in the Customer Contact Centre.
What are you studying?
Emma - I'm currently in my third year of a Bachelor Degree in Business and Commerce, majoring in HR and Marketing.
Cameron - I am studying a Bachelor of Business and Commerce with a double major of Macro-economics Finance and Human Resource Management
Something that surprised you since starting your placement…
Emma - The fact that things constantly change came as a surprise – there are always new systems, legislation or improvements that we need to understand. I was also pleasantly surprised with the amount of responsibility and tasks we were given. There's no coffee making and photocopying!  
Cameron – I was surprised how quickly we became involved with projects and business critical tasks. It's been great to be given some responsibility so early, and I'm looking forward to how the rest of my internship pans out.
A typical day as an intern involves…
Emma - Lately I have been working on some analysis for our social media channels. I'm also developing new procedures to help us respond to questions that come in through Facebook or Twitter. Every day we pick up something new and are constantly meeting different people and learning about other areas of ASIC.
Cameron – No two days are the same. The work and projects have been so varied, enabling me to improve my skills on a range of different tasks.
The most common question asked from customers is…
Emma - Not a day will go past without being asked about the steps to register a business name or how to make a renewal payment. We have those answers perfected.
Cameron – The process of registering and paying for a business name is always a favourite with our customers.
I got a great understanding of ASIC from…
Emma - The user guides explaining how to complete any business name registration or maintenance task are especially valuable.  
Cameron - Jumping on the phones for a couple of weeks has given me a realisation of our customer needs and how many areas ASIC is responsible for.
If I could witness any event of the past, present, or future, it would be…
Emma - Richmond winning an AFL grand final in the not too distant future, but I'm not holding my breath.
Cameron - The moment the Wright Brothers successfully took to the air. Aviation has revolutionised transport, helped develop the global economy, and made the world so much more accessible for all of us.  Witnessing the first few seconds of flight would be very exciting.