InFocus September 2017 - Volume 26 Issue 8

Contents
Modernising business registers to make business simpler
The government has opened consultation on ways to modernise business registers as part of the National Business Simplification Initiative (NBSI). This includes the modernisation of ASIC's registers.
In particular, the Government is interested in understanding the potential impacts of bringing together ASIC registers and the Australian Business Register (ABR). 
The intent of the consultation is to identify how improvements to registries could help streamline and simplify the way business interacts with all levels of government. 
A media release jointly issued by The Hon Kelly O'Dwyer MP, Minister for Revenue and Financial Services and The Hon Craig Laundy MP Assistant Minister for Industry, Innovation and Science provides further information.
A discussion paper is now available on the Treasury website with background information and Frequently Asked Questions. The Government is encouraging stakeholders to provide their views on all aspects of the operation of business registries including the user experience, opportunities to deliver improved business services, open data, accessibility, technology, governance and legislation.  
For more information, or if you have any questions, please contact Industry.Engagement@Industry.gov.au. 
Lodging online - it's fast, convenient, and better for the environment 
Using our online services is the quickest and easiest way to lodge applications or make updates to your address or officeholder details. In 2016-17, more than 91% of all lodgements with ASIC were submitted online.  
Many companies and financial service licensees are due to lodge financial accounts in September and October. The following forms can be lodged online through the ASIC website:
Form 388 – Copy of financial statements and reports
FS70 - Australian financial services licensee profit and loss statement and balance sheet
FS71 – Auditor's report for AFS Licensee
Crowd-sourced funding - what you need to know
To assist with starting or expanding, companies will be able to raise funds using 'crowd-sourced funding' from 29 September 2017.
Public companies not listed on a stock exchange (like ASX or Chi-X) will soon be able to use crowd-sourced funding to raise funds.
Eligible companies can raise up to $5 million a year, as long as they have less than $25 million in assets and annual revenue.
Anyone providing crowd-sourced funding services must hold an Australian financial services licence.
Investors can invest up to $10,000 a year per company. In exchange, the investor will receive shares in the company.
More information for intermediaries and companies seeking to raise funds is available at ASIC's website.
Further information about investing in a company via crowd-sourced funding can be found at ASIC's MoneySmart's website.
Insolvency Practitioners - Law reform update
Further changes from the Insolvency Law Reform Act 2016 took effect on 1 September 2017.
These changes relate to the rules and conduct of external administrations.
Visit our dedicated insolvency law reform page to find out more.
Case study - B&L Building Pty Ltd - An introduction to registering a company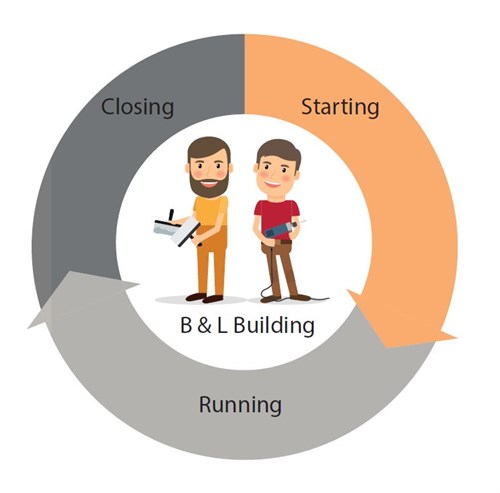 We're always looking for new ways to provide content to help you or your clients meet their obligations with ASIC. In the coming months, we will include case studies to explore what business name and company holders need to do with ASIC.
This edition, we would like to introduce Brad and Luke.
Brad and Luke started their small construction business a few years ago and have steadily expanded. Based on advice from their accountant, they decide to register a company to help them manage their structure as they take on bigger projects.
Before they register the company, Brad and Luke visit the ASIC website to learn about their obligations as company officeholders. They discover they have a number of obligations related to their registration, like paying their review fee every year, updating their details when they change and being able to pay debts when they fall due.
Now that Brad and Luke have considered their responsibilities, they apply to register the company 'B&L Building Pty Ltd.'
A few days later, Brad and Luke get a letter from ASIC with a copy of their company certificate, their Australian Company Number (ACN) and their corporate key. They can now trade under their company name and begin to expand their business.
For more information about registering a company, visit our website.
Running a small business in Australia booklet - now in Simplified Chinese
We've recently translated our Running a small business in Australia booklet into Simplified Chinese.
The booklet was put together with the help of a range of small business groups and is designed to help busy small business owners understand what they need to do.
It covers key topics including:
ASIC's role
the different types of businesses that we regulate, and
obligations for business names and companies
Both English and Simplified Chinese editions are available from our website.
Limited AFS licensees and the Financial Advisers Register
As a reminder, you need to provide information to ASIC about yourself or your financial advisers if you:
hold a limited Australian financial services licence; and
are authorised to give personal advice to retail clients (this includes class of product advice)
Please refer to our website for information about your obligations and appointing advisers to the register.
Events
Business Professionals Week: 23-27 October in Brisbane
Business Professionals Week, hosted by professional industry bodies, provides an opportunity for the North Queensland community to engage in networking and professional development events in Townsville. More information will be made available soon on the Hays Website.