ASIC media releases are point-in-time statements. Please note the date of issue and use the internal search function on the site to check for other media releases on the same or related matters.

Monday 25 May 2015
15-123MR New Women's Money Toolkit helps Australian women plan and manage their financial future
ASIC today launched a 'Women's Money Toolkit', a free online resource designed to help Australian women manage their finances, make money decisions at key life stages and enhance their financial wellbeing.
The toolkit was developed in response to the particular needs of women who face financial issues and challenges as a result of factors such as their greater likelihood of variable workforce participation, longer life expectancy and on average lower superannuation balances. Research suggests there are differences in the way that women and men generally interact with finances, indicating the need for a tailored approach to financial education.
Minister Assisting the Prime Minister for Women, Senator the Hon. Michaelia Cash, said Australian women of all ages could benefit from this new toolkit.
'Whether you're in control of your finances and looking to gain an edge, or if you're struggling to make ends meet, the toolkit can help you,' Minister Cash said.
'Women's financial literacy plays a vital role in ensuring the economic security of Australian women but also the wellbeing of their families.'
The Women's Money Toolkit provides tailored and impartial financial guidance for life events such as having a baby, caring for others, buying a home, illness and disability and/or family breakdown. It also contains new online tools to see the impact that taking time out of paid work will have on current and longer term financial situations, and help women manage that impact.
'ASIC's objective is to empower all Australians to manage their personal finances effectively, and to promote confidence and trust in the financial system,' ASIC Commissioner Cathie Armour said.
'We know that many women are key money managers particularly in the family and often have to deal with a range of specific financial challenges. For example, women aged 60 to 64 have on average $104, 734 in their super balance, while men have $197,734.
'This new resource, which we have developed in partnership with the Office for Women, will help women plan and make decisions about their finances, and is an excellent addition to our financial literacy program.'
The Women's Money Toolkit is available on ASIC's MoneySmart website at moneysmart.gov.au.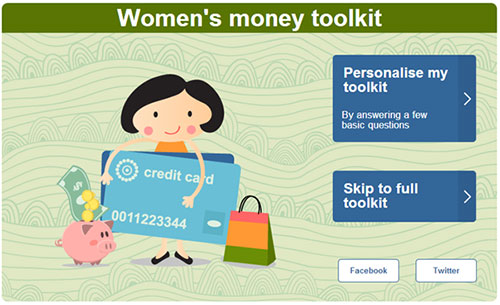 Background for editor
Relevant facts and figures that informed the development of ASIC's Women's money toolkit:
ASIC is responsible for leading and coordinating the National Financial Literacy Strategy 2014-17 (Strategy), consistent with its strategic priority to promote investor and financial consumer trust and confidence in the financial system. Financial literacy is the ability to apply the right knowledge, skills, attitudes and behaviours to make informed financial decisions. The Strategy is a roadmap to guide participation by ASIC and all organisations with an interest in improving financial literacy. Women are a key audience under the Strategy. For more information, visit financialliteracy.gov.au.
ASIC's MoneySmart provides free and impartial information and guidance about all aspects of personal finance to help Australians make informed financial decisions.
The Women's money toolkit is the latest addition to the suite of online personal finance tools and calculators available from ASIC's MoneySmart at moneysmart.gov.au.
Notes to Background
[1] Council of Australian Governments (21 Oct 2013), Report: 'Tracking equity: Comparing outcomes for women and girls across Australia.'
[2] ABS 3302.0 - Deaths, Australia, 2013 http://www.abs.gov.au/AUSSTATS/abs@.nsf/Latestproducts/3302.0Main%20Features12013?opendocument&tabname=Summary&prodno=3302.0&issue=2013&num=&view=
[4] ANZ Survey of Adult Financial Literacy in Australia 2014
[5] Impulsivity includes a focus on saying and doing things without giving them much thought, a self-image of oneself as 'a bit of a risk taker' and the use of credit rather than saving up to purchase goods and services.