Recurrent collection of financial services data
This related set of webpages provides information about ASIC's initiative on the recurrent collection of financial services data.
This information is most relevant to financial services providers, credit intermediaries and their third-party service providers. The information is also relevant to other stakeholders interested in the collection, management and use of data by ASIC and other bodies where this data is obtained from financial service providers and credit intermediaries.
ASIC requires granular financial services data on a recurrent basis to improve its evidence base, to better understand developments in the markets ASIC regulates, to detect emerging risks, and to drive better consumer outcomes.
Two recurrent data collection pilots are proposed to commence in 2018. These will relate to mortgage and managed funds flow data. Detailed consultation is being conducted around each specific recurrent data collection project.
ASIC has established a Stakeholder Strategic Reference Group and Implementation Working Group comprising industry members to oversee ASIC's data collection.
These engagement and governance groups enable industry to provide feedback on ASIC's proposed approach in obtaining and using this data. Industry involvement will help refine data collection requests and processes, maximise the usefulness of the data collection, and minimise the cost impact for industry.
ASIC is coordinating with other regulators, including the Australian Prudential Regulatory Authority, the Reserve Bank of Australia and third-party service providers to minimise duplication, and maximise opportunities for common approaches and use of existing data sets.
Importantly, the success of such a program of data collection requires effective partnership with industry. A successful partnership could deliver net benefits for all parties through cost-effective collection, reduced need for expensive bespoke data requests, coordination as far as possible of requests with those of other regulators and return of aggregated data to participants.
Subscribe for updates on ASIC's recurrent data collection project at to datacollection@asic.gov.au.
Types of data collected by ASIC
ASIC wants to ensure it is collecting data with purpose and has assessed its data analytics needs relating to a range of sectors it regulates, including banking, credit, insurance, wealth management and financial advice.
The purpose of this assessment was to determine how ASIC could use data analytics to better identify, monitor and respond to risks. The conduct of this assessment and its implementation is supported by funding announced in April 2016 to increase ASIC's data analytics and surveillance capabilities.
Recurrent data collection involves receiving data from organisations on a periodic basis. A key benefit of recurrent data is that organisations will know in advance what data ASIC requires and when it will be required.
ASIC also conducts bespoke (one-off) data collections. In recent years this has included collection of mortgage data for reviews of mortgage broker remuneration and interest-only loans, life insurance claims data, and data on how firms monitor and supervise financial advisers.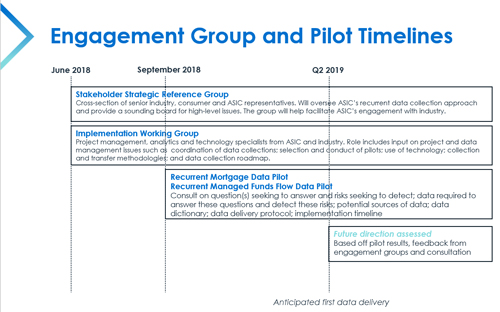 Further information