Regtech Licensing Technology-Assisted Guidance Tool (TAG) Trial
Trial overview
ASIC set out to explore the development of a simple TAG tool for businesses to more easily enquire about financial service and credit licensing requirements, as well as related regulatory guidance.
In April 2019, ASIC approached the market seeking a technology company and legal firm to work together to develop a proof-of-concept for a licensing TAG tool.
This TAG tool project, which took the form of a chatbot, set out to deliver several outcomes:
create a minimum viable product that delivers guidance about the regulatory framework and licensing requirements in response to user inquiries
design a product that could incorporate regulatory and legal updates and amendments
capture information input into the TAG tool for future NLP-based interactions
have a user-friendly, web-based user interface allowing for cross-mobile and cross-browser compatibility.
The TAG tool was made with the intention of providing informal guidance, not legal advice.
Problem-specific findings
As a result of a tender process, ASIC selected Piper Alderman and Gronade (the supplier) to work on developing the TAG tool. The supplier developed a viable prototype that was demonstrated to ASIC in October 2019 and was publicly presented at ASIC's 8th Regtech Liaison Forum on 22 November 2019.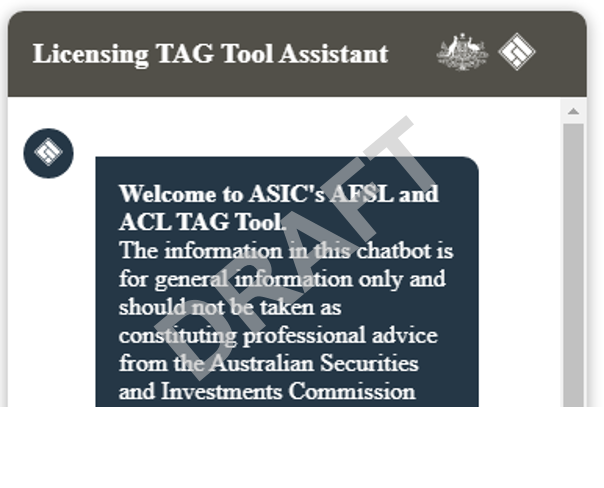 A screenshot of the technology-assisted guidance (TAG) tool demonstration.
The solution was designed and developed in an internal testing environment. The chatbot was built to enable ASIC to flexibly continue its development, and slowly increase uptake, use and functionality.
Due to the design of potential capacity for the TAG tool to be used by stakeholders searching the ASIC website, ASIC required the supplier to develop features not otherwise present in off-the-shelf chatbot solutions. Specific challenges included:
finding a structured way to incorporate complex decision trees and translate these into a logic engine
anticipating user needs without having an existing dataset of previous interactions, conversations, or inquiries
guiding users based on legal and regulatory requirements in a prescriptive way, while ensuring they understood that chatbot licencing guidance did not qualify as legal advice.
These hurdles required the supplier to take several tailored approaches when designing the TAG tool. The most significant design approach was that without a dataset of previous interactions this chatbot was created as a data-centric solution. This meant that the chatbot had to be designed to anticipate the type of information users may require, and adapt multiple nuanced versions of communication, in order to provide the most likely applicable answers, considering legal interpretation.
The supplier stated that the delivery of the TAG tool provided some significant lessons for any other stages of this ASIC trial and any similar initiatives by industry. At its core, the lack of an initial dataset limited the scope and development cycle of the chatbot. If this kind of information had been accessible, challenges around not having clear user-interaction histories or references for developing logic and decision trees, as well as limiting any ability to train the tool, could have been minimised.
The complexity of the licensing regime made mapping the logic of the TAG tool a challenging task. The level of overlap across guidance for products and services, along with associated exemptions, required skilled practitioners with confidence in their understanding of the regulatory landscape. This is doubly important when attempting to balance for user experience by optimising the language of the questions and the number of questions users must answer.
Specialised human input does not stop there – with legislation and regulatory guidance being as dynamic as it is, there will be an ongoing need for continual updates to the TAG tool.
Watch the demonstration
Agenda
For more information about ASIC's regtech series, follow the links below: