Regtech Monitoring Financial Promotions Demonstration and Symposium
Event overview (Sydney 2 August 2019)
Problem statement and event design
Retail financial product and service businesses are challenged with the effective monitoring, supervision and delivery of financial promotions to potential consumers. They seek to ensure promotions are clear, balanced, meet specific disclosure obligations, and are not misleading or deceptive (i.e. quality promotions).
ASIC designed this event to explore the use of regtech to help address this compliance challenge by improving regulatory compliance systems as well as the quality of promotions distributed to consumers.
ASIC selected five demonstrators — Sintelix, Law of the Jungle, Cognitive View, Red Marker Allens, and Visteo — from a set of applicants, based on the strength of their solutions, to work with a curated data set of financial promotions of credit services. These service providers had to then demonstrate how technology can be used to assist in assessing the issuance of financial promotions in compliance with the law. The service providers demonstrated their solutions at a symposium on 2 August 2019.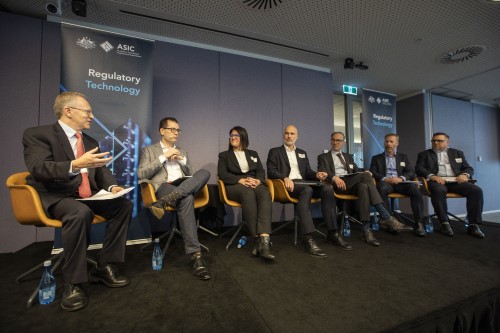 Panel discussion covering 'Regtech - Experience and Potential' at the Monitoring Financial Promotions Demonstration And Symposium
Data
The five demonstrators received a curated set of 180 examples of promotional material related to credit products. The advertisements varied in traditional and non-traditional formats and mediums and included: web banners, billboards, print, television and radio ads. ASIC encouraged participating demonstrators to include other relevant data or publicly available promotions to supplement the data provided. ASIC also provided demonstrators with:
Problem-specific findings
Demonstrators made use of a combination of tools to identify examples of misconduct, including: content extraction, rules engines, legal checklists, and non-legal based analytics.
Most demonstrators presented that they were able to accurately detect potential breaches of mandatory disclosure requirements in around 90% of specific cases. Potential non-compliance included guaranteeing an annual percentage rate (APR), missing comparison rates, and overstatements of benefits. ASIC considers that there was a reasonable basis to conclude demonstrators were able to identify these relatively simple examples of potential breaches, even though ASIC was not in a position to conduct a complete verification of all the demonstrators' results.
Demonstrators were also able to show identification of more subjective examples of poor disclosure, such as potentially misleading or deceptive conduct. These demonstrators were not able to indicate what their accuracy rates were for this kind of assessment given the limited nature of the training dataset and subjective nature of the assessment.
Some demonstrators noted that poor image quality challenged data analytics, failing to meet minimum requirements for optical character recognition (OCR).
Some demonstrators indicated they had built risk-rating systems that would allow for their solution to calculate, assign, and prioritise various levels of concern relating to potential breaches. These ratings were based on the number and severity of these potential breaches of the financial promotion requirements, and the reputation of the entity publishing the advertisement. The associated challenges with these approaches included the limited size of ASIC's testing dataset, as well as the diversity of media, making it difficult to train some of these more complex systems.
One demonstrator showed how to track advertisements in real-time during their development, allowing for red flags to be reported and corrected prior to promotions being published.
General observations
Interoperable capabilities are a key factor when considering regtech solutions
Some demonstrators designed solutions that worked when integrated into existing monitoring systems, which event observers said would encourage use of the demonstrators' technology.
Breach identification and triage
Regtech can provide an initial review of advertising monitoring and compliance, freeing up human resources to assess more complex issues or edge cases.
Challenges faced
Promotional material diversity
Demonstrators found the variety of promotional media and poor image quality a challenge when working with the provided data.
Dataset size
Access to a larger and more tailored dataset would assist with ML to identify advertising risk factors, vastly improving results.
Live Stream and Presentations
Agenda
For more information about ASIC's regtech series, follow the links below: