ASIC's Regtech Liaison Forum
ASIC hosted our first Regtech Liaison Forum on 6 December 2017 from our Melbourne office. Sites in Sydney, Perth, Brisbane, Canberra and Adelaide were connected via video conference.
Themes of discussion
Role of liaison forum
Attendees supported:
Regular ASIC Regtech Liaison Forum meetings to promote stakeholder engagement and ideas for collaboration
Agendas that included standard items led by ASIC and other regulators, as well as from industry
Having Treasury and a range of domestic financial services regulators as attendees.
Opportunities for collaboration
There was general agreement from attendees that there is more opportunity for collaboration on issues that are not points of competitive differentiation between financial service providers (egs: the development of utility-like functions; industry standards that underpin the design of software applications).
Focus areas for regulators
Attendees noted that regulators could focus attention on: promoting easier regulatory reporting; designing regulation and publishing guidance in formats that aid regtech applications; providing more guidance on compliance including best practices; the development and use of algorithms in the provision of financial services; maximising coordination between domestic regulators on risk management, compliance and reporting obligations; and promoting international harmonisation of regulatory frameworks and approaches.
Focus areas for industry
Attendees noted that industry could focus on 'use cases' that promote best opportunities for collaboration (eg: in the area of conduct of business); templates for procurement of regtech services; templates and guidance for proof of concept regtech commercial engagements; and promoting stakeholder engagement.
Some challenges
Attendees noted a range of challenges in promoting good regtech outcomes, including financial services providers are looking for end-to-end and interoperable business solutions through the use of regtech applications; financial service providers have to assess the viability of new regtech firms in determining whether to engage their services in POCs; and the absence of deep business and technology skill sets within financial service providers and across the regtech sector.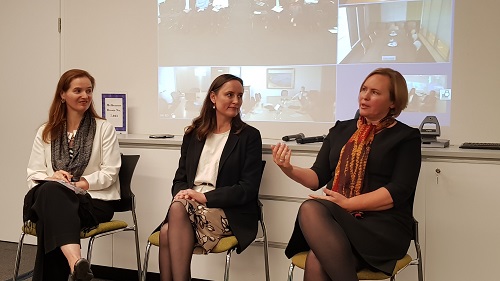 Outcomes
ASIC will consider some of the ideas for regulators and look for simple, practical and most costs effective measures to support good consumer and market outcomes through the development of regtech applications (eg: how ASIC communicates guidance and makes available data).
The Regtech Association and Fintech Australia representatives will look to identify priority regtech related use cases to take a lead on to promote collaborative initiatives. This will include considering what role regulators could play.
Next meeting
5 March 2018