ASIC media releases are point-in-time statements. Please note the date of issue and use the internal search function on the site to check for other media releases on the same or related matters.

Wednesday 28 February 2018
18-056MR ASIC's latest enforcement report highlights outcomes from the second half of 2017
ASIC has today released its enforcement outcomes report for the period 1 July 2017 to 31 December 2017.
The enforcement outcomes over that six-month period include: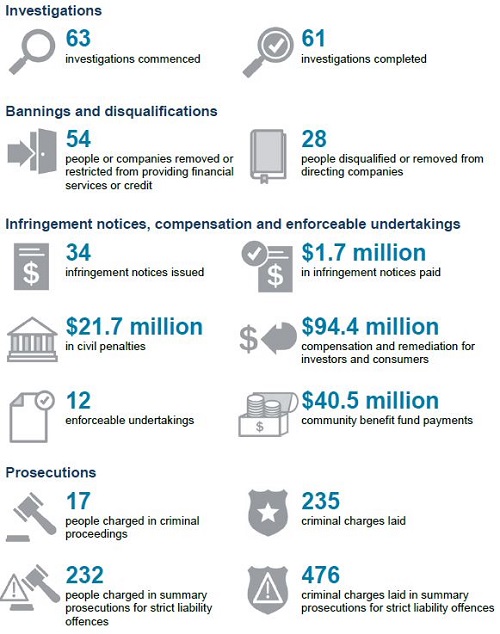 The report presents a number of key outcomes over the last six months, across the areas that ASIC enforces: corporate governance, financial services, market integrity and small business. These outcomes relate to a range of areas of focus, including:
Corporate governance
Financial services
Market integrity
Small Business
This edition of the report also provides a summary of ASIC's work  tackling loan fraud. Since becoming the national consumer credit regulator in 2010, ASIC has undertaken over 100 investigations into loan fraud, and removed or restricted 60 people from providing financial services, of which 36 people were banned permanently.
Outlined in the report are key risk areas that will be the focus of our enforcement activities over the next six months. These include, but are not limited to:
insolvency practitioners and others who facilitate serious illegal 'phoenix' activity and improper transactions in the face of insolvency;
company directors and officers who fail to stop their companies making illegal payments to officials of overseas governments;
responsible lending practices in the consumer credit industry; and
technology-enabled offending and/or cyber crime activity in the context of rapid technological developments.
ASIC Commissioner Cathie Armour said, "This report highlights our ongoing commitment to ensuring that Australians can have trust and confidence in the financial system. Where there are practices in our markets and financial services industry that could create harm, ASIC will take enforcement action to protect investors and consumers."