ASIC has launched legal action against Latitude Finance Australia (Latitude) and Harvey Norman Holdings Ltd (Harvey Norman) over the promotion of interest free payment methods. 
ASIC alleges that from January 2020 to August 2021, advertisements promoting 'no deposit', 'interest free' payment methods over a specified term for purchases at Harvey Norman were misleading because they did not disclose that consumers could only use the interest free payment method if they applied for and used a Latitude GO Mastercard.  
ASIC also alleges that the advertisements misrepresented the true cost of using the payment method because they failed to adequately disclose establishment fees and monthly account service fees.
ASIC Deputy Chair Sarah Court said, 'ASIC is concerned the advertising did not provide consumers with the full picture, that they could only use the interest free payment method by applying for and using certain Latitude credit cards. These credit cards, ASIC alleges, attracted substantial fees over the course of the 60 month payment term, and exposed consumers to the risks of incurring further debts and charges, as well as potentially affecting their credit rating.' 
Consumers who signed up to the GO Mastercard on or after 16 March 2021 and before 11 August 2021, and made a purchase at Harvey Norman using the 60 month interest free payment method and paid off their purchase over 60 months, would be liable to pay at least $537 in fees, on top of their purchase amount. 
'Consumers have a right to make informed choices. Credit providers and retail partners such as Latitude and Harvey Norman should ensure that their advertising clearly discloses all important information about payment methods and any fees,' said Ms Court.  
ASIC seeks declarations, pecuniary penalties, injunctions and other orders against Latitude and Harvey Norman. The date for the first case management hearing is yet to be scheduled by the Court. 
Download
Background
Latitude and Harvey Norman distributed and earned significant revenues from the GO Mastercard, which is available exclusively through Harvey Norman franchisees' stores and Harvey Norman and Latitude websites.    
From around July 2020, the GO Mastercard credit card was rebranded the Latitude GO Mastercard. 
ASIC's Regulatory Guide RG 234 is for promoters of financial products, financial advice services, credit products and credit services, and publishers of advertising for these products and services. RG 234 contains good practice guidance to help promoters comply with their legal obligations not to make false or misleading statements or engage in misleading or deceptive conduct.  
Since 5 October 2021, new design and distribution obligations have applied. These obligations require issuers and distributors of financial products to help consumers obtain appropriate financial products by taking a consumer centric approach when designing and distributing their products. More information is available in ASIC Regulatory Guide RG 274.  
ASIC's Moneysmart website has information for consumers about the real costs of interest free deals and how to find help to get debt under control. 
Example of an extract of one of the newspaper advertisements - The Adelaide Advertiser, Thursday 23 April 2020.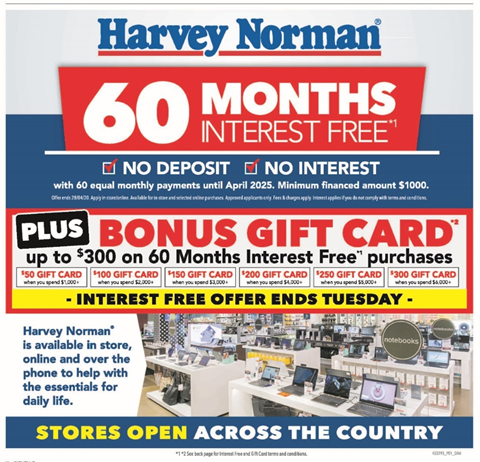 Editor's note:
The first case management hearing will be heard before the Honourable Justice Yates on Monday, 14 November 2022.
Editor's note 2:
The case management hearing set down for 14 November 2022 has been vacated. The next case management hearing will be held on 3 April 2023.
Editor's note 3:
The case management hearing before Justice Yates held on 17 April 2023, has been adjourned.
Editor's note 4:
The proceeding is listed for a further case management hearing on 27 November 2023.
Editor's note 5:
The matter has been listed in the Federal Court NSW for a liability hearing for five days commencing on Monday, 15 April 2024.
Editor's note 6:
The parties appeared before Justice Yates for ASIC's interlocutory application on Wednesday 14 June 2023. Judgment was reserved.