ASIC has commenced civil penalty proceedings in the Federal Court against LGSS Pty Limited (Active Super) alleging misleading conduct and misrepresentations to the market relating to claims it was an ethical and responsible superannuation fund.
Active Super represented on their website that they eliminated investments that posed too great a risk to the environment and the community, including tobacco manufacturing, oil tar sands and gambling. Active Super also stated that they had added Russia to their list of excluded countries, following the invasion of Ukraine.
ASIC alleges Active Super exposed its members to investments it claimed to restrict or eliminate.  
ASIC Deputy Chair Sarah Court said, 'There is much competition among super funds for new members, and we know that funds seek to attract members with promises their investments will not be exposed to certain industries. When making these claims super funds must have evidence to back their claims and ensure they are not promising exclusions that they cannot guarantee.' 
From 1 February 2021 to 30 June 2023, ASIC alleges that Active Super held 28 holdings, either directly or indirectly, which exposed members to securities it claimed to restrict. Some of the holdings included: 
Gambling: Skycity Entertainment Group Limited, PointsBet Holdings Limited, The Star Entertainment Group Limited, The Lottery Corporation Limited and Tabcorp Holdings Limited; 
Tobacco: Amcor PLC; 
Russian entities: Gazprom PJSC and Rosneft Oil Company; 
Oil Tar Sands: ConocoPhillips; 
Coal Mining: Coronado Global Resources Inc., New Hope Corporation Limited and Whitehaven Coal Limited. 
ASIC also alleges that following the commencement of the war in Ukraine in February 2022, Active Super made representations from May 2022 that it would stop investments in Russian companies even though Active Super had holdings in Russian securities, which remained in place as at 30 June 2023. 
ASIC alleges ESG misrepresentations were made on Active Super's website, disclosure documents and on Facebook, Instagram and LinkedIn. 
This is ASIC's third greenwashing civil penalty proceeding after ASIC recently took action against Mercer Super (23-043MR) and Vanguard Investments Australia (23-196MR). 
ASIC is seeking declarations, pecuniary penalties, adverse publicity orders and an injunction against Active Super from the Court.  
The date for the first case management hearing is yet to be scheduled. 
Download 
Background 
Active Super is a superannuation fund with approximately $13.5 billion in superannuation assets. As of 1 July 2023, Active Super has 89,000 members. 
The below two visual representations were published in Active Super's Impact Report and are subject of ASIC's proceeding: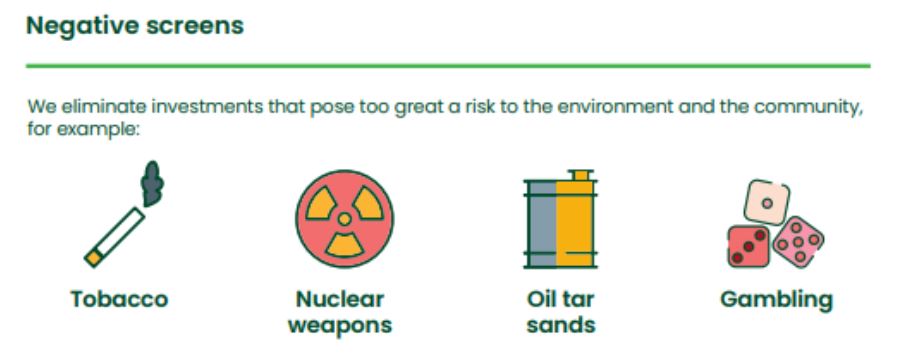 [Click image to enlarge]
[Click image to enlarge]
ASIC's Information Sheet 271 (INFO 271) provides information for responsible entities of managed funds and super fund trustees about how to avoid greenwashing when offering or promoting sustainability-related or ethical products and investments.
ASIC's Moneysmart website has a range of tools and resources to help people understand money and how to manage it. Find out more about ESG investing and how it works.
Companies that ASIC alleges investor funds were exposed to: 
Skycity Entertainment Group Ltd – Skycity is one of two major publicly listed casino operators in Australasia, Skycity operates integrated entertainment complexes in New Zealand and Australia, each featuring casino gaming facilities.  
PointsBet Holdings Ltd – PointsBet is an ASX listed sports wagering operator and iGaming provider, offering sports and racing products and services via its cloud-based technology platform.  
Tabcorp Holdings Ltd –Tabcorp is a betting and entertainment experiences business. Their brands include TAB, Sky Racing and MAX. 
Gazprom PJSC– Russian company Gazprom operates gas pipeline systems and carries out the exploration, production and transportation of gas. 
Rosneft Oil Company – Russian company Rosneft Oil Company engages in the exploration, development, production and sale of crude oil and gas. 
Shell Plc – Shell is an energy and petrochemical company which supplies crude oil and natural gas, as well as oil sands activities.  
Amcor PLC – Amcor is a global manufacturer of flexible and rigid plastic packaging and provides speciality cartons for the tobacco industry. 
Whitehaven Coal Limited – Whitehaven Coal Limited operates 4 coal mines producing metallurgical and thermal coal for export across North and Southeast Asia. 
The above summaries are taken from company annual reports and other publicly available information. 
Editor's note:
The matter has been listed for a case management hearing on 28 August 2023.
Editor's note 2:
The matter has been listed for a further case management hearing on 3 October 2023.
Editor's note 3:
The matter has been listed for a further case management hearing on 16 October 2023.
Editor's note 4:
The proceeding has been listed for further case management hearing on 17 November 2023.
The proceeding has been provisionally listed for a liability hearing on 25 and 26 March 2024.
Editor's note 5:
The case management hearing on 17 November 2023 was vacated and the matter remains listed for a liability hearing on 25 and 26 March 2024.