Key points
This article follows a session on the hardship issues impacting vulnerable consumers at the 2023 ASIC Annual Forum in Melbourne.
ASIC is seeing evidence that an increasing number of customers are experiencing financial distress and difficulty due to cost-of-living pressures.
The way credit providers respond can have a substantial impact on the lives of their customers. In addition to increased scrutiny of lenders' hardship practices, ASIC remains focused on protecting vulnerable consumers and small businesses from the harms arising from predatory lending practices, high-cost credit and other poor conduct.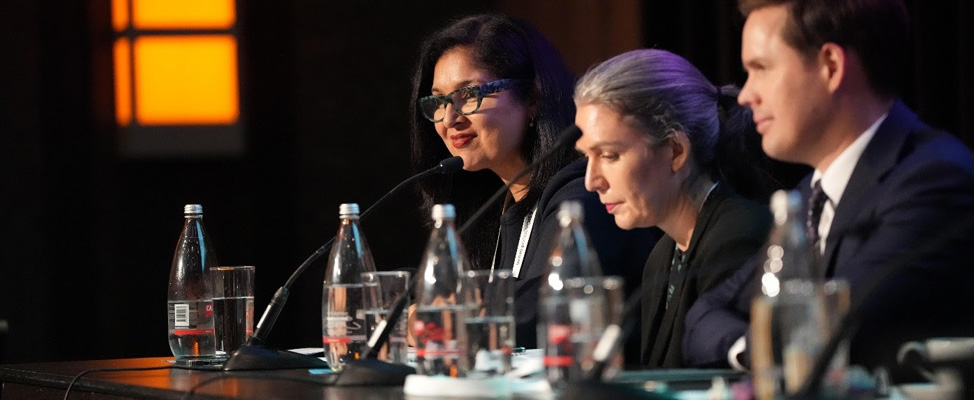 Suneeta Sidhu, Elsa Markula and Travers McLeod speaking during the 2023 ASIC Annual Forum.
The increased cost of living is placing significant pressure on everyday Australians. With interest rates expected to remain higher for longer, many are finding it harder to meet their loan repayments. As a result, requests for hardship assistance are on the rise.
Suneeta Sidhu, Senior Executive Leader, Strategic Surveillance and Data at ASIC said ASIC's review of hardship applications from 30 large lenders revealed there had been more than 430,000 applications from more than 170,000 customers since 2022.
Approximately 40% of these applications related to home loans, of which 80% were owner occupiers.
Travers McLeod, Executive Director of the Brotherhood of St Laurence, said they were seeing evidence of "hidden hardship and pernicious trade-offs".
"We're seeing reduced spending on essentials, choosing between food and medicine, having to tell kids they can't afford sports training anymore because they don't have the extra money to spend on fuel, having to live with ex-partners to save on housing costs," Mr McLeod said.
"I worry things will get worse before they get better. There's a lot of pain out there."
David Locke, CEO and Chief Ombudsman at the Australian Financial Complaints Authority (AFCA), said many vulnerable consumers were turning to buy-now-pay-later products and other short term lending products to fill the gap.
"We have seen a 57% increase in complaints about buy-now-pay-later products," Mr Locke said.
"There's an interesting discussion to be had around regulation and innovation but what we're seeing in that space is what's being called innovation is other forms of credit coming online, with little certification in terms of affordability."
Elsa Markula, CEO of the Australian Retail Credit Association, added that there is also an increasing reluctance to rely on hardship provisions due to misconceptions they may have an ongoing impact on credit ratings
"The reality is that it's actually better for individuals to seek hardship assistance. It doesn't impact your credit rating or score, it does go on your credit report and stays there for 12 months but that information doesn't act as a black mark for somebody to be automatically rejected for credit," Ms Markula said.
Hardship provisions are not adequately supporting First Nations peoples, with little understanding of kinship or cultural obligations, NSW 2023 Aboriginal Woman of the Year and Financial Counselling Australia Financial Capability Coordinator, Lynda Edwards, highlighted.
"When you think about the hardship system, it isn't really tailored to First Nations people, especially when English is their second or third language, or out in community where there's no communications or services and very little access to banking," Ms Edwards said.
"The majority of First Nations people don't feel like they are part of the process and there needs to be a lot more information on the ground for people to participate."
Mr McLeod added, "there's lot of goodwill there but the goodwill is not being matched by the humanity of the hardship processes".
ASIC has called on lenders to ensure they have appropriate arrangements in place to respond to these requests and are working constructively with customers to find sustainable solutions.
Background
The ASIC Annual Forum brings together thought leaders and experts to explore strategies for adapting and evolving in a time of geopolitical, economic and technological change. The theme of this year's event is 'Navigating Disruption'.
The session, 'Hardship and vulnerable consumers' was moderated by Suneeta Sidhu, Senior Executive Leader, Strategic Surveillance and Data, ASIC
The panel included:
David Locke, CEO and Chief Ombudsman, AFCA
Lynda Edwards, Coordinator Financial Capability, Financial Counselling Australia, NSW 2023 Aboriginal Woman of the Year, NSW 2023 Premier's Woman of the Year
Travers McLeod, Executive Director, Brotherhood of St Laurence
Elsa Markula, CEO, Australian Retail Credit Association
---
Read more