Tools and resources for business names and companies
Here you can quickly and easily find all the tools and resources we have available to help keep your business name and company details up to date.
Videos 
Videos for business names
Learn more about our online business name services. We also feature tutorials which explain some of our most popular online transactions.
Videos for companies
Learn more about our online company services.
User guides
User guides for business names
Our user guides provide step-by-step instructions for completing business name transactions in ASIC Connect.
User guides for companies
Our user guides provide step-by-step instructions for completing company officeholder transactions online.
Publications
Publications for business names
A guide that includes information on:
how to register and renew a business name 
update your business name details 
close or sell a business name and 
search the Business Names Register.
Publications for companies
Information about what to consider when you operate a small business.
Infographics
Our infographics explain some of our most popular online transactions in a visual way.
Renew your business name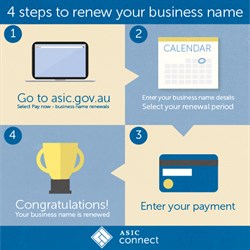 Apps
Check a business' registration status, registration number and principal place of business.
Takes you through some practical and easy checks to verify information about businesses you're currently dealing with or potential business partners.
Useful links
ASIC resources for business names
From 12 November 2016, the existing unfair contract term protections will be extended to cover small business contracts.
An online training resource developed to help VET students improve their money management skills and support their future careers in small business or as contractors.
ASIC resources for companies
Learn more about your responsibilities as a company director, including potential liabilities.
External links
Ensures that individuals and businesses comply with Australian competition, fair trading, and consumer protection laws.
Represents small business interests and concerns to the Australian Government.
Manages Australia's tax, excise and superannuation systems.
You can use this tool to help you determine whether a business is viable.
Offers information and resources on planning, starting and growing a business.
A gateway to information and advice about Australia's workplace rights and rules.
Information from business.gov.au about the differences between a sole trader and a company.
A free online superannuation payments service that helps small businesses with 19 or fewer employees meet their superannuation guarantee obligations.