Contact us
If you can't find the information you are looking for on this website, we have a range of services to help.
Ask us a question
You can ask us a question online. We aim to respond to your enquiry within 5 business days.
If you choose to ask us a question online we will request your personal details so that we can contact you to discuss your enquiry and seek further information if required. Other options, including by phone, are available if you prefer to remain anonymous. Please refer to our Privacy Policy.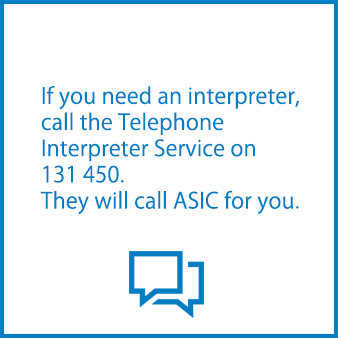 Phone us
We can only provide information to persons who are authorised to act on behalf of the entity for which they are calling. If you are not authorised to act on behalf of the entity, we can only provide general information and no specific entity information will be disclosed.
There are some transactions we cannot do over the phone.
If you are enquiring about an Australian Business Number you will need to contact the Australian Business Register. These enquiries are not handled by us. You can contact the Australian Business Register at www.abr.gov.au

We are unable to take payments over the phone. Payment options are listed at the bottom of invoices issued by ASIC.
For more information about payment options visit our website at www.asic.gov.au/payment-options
Customer Contact Centre
The Customer Contact Centre's (CCC) business hours are Monday to Friday 8:30 am to 5:00 pm (local time) in each state and territory. The CCC closes for business on national public holidays and has limited services available on public holidays for each state and territory.
Use the Interpreting Service

If you have difficulty speaking or understanding English, call the interpreting service, TIS National, on 131 450. TIS National provides interpreting in more than 160 languages.
TIS National will then call us with an interpreter so we can help you with your query.
National Relay Service
If you are deaf or have a hearing or speech impairment, you can phone us through the National Relay Service. Visit their website at http://relayservice.gov.au/.
Chat with us online
Due to higher than usual demand for service within our Customer Contact Centre, our web chat service is temporarily unavailable.
You can still ask us a question or phone us during this time.
Self-service kiosks
Self-service kiosks are no longer provided by ASIC. For more information, see changes to ASIC self-service kiosks.
The ASIC Regulatory Portal has replaced other channels as the primary way to submit applications for relief and various fundraising and corporate finance documents to ASIC.
If you have any difficulties with lodging documents, please phone the Customer Contact Centre on 1300 300 630.
Write to us
If you have received correspondence from ASIC and you wish to respond in writing please send your response to the address printed on the letter.
Alternatively if you wish to write to us you can mail your correspondence to:
Australian Securities and Investments Commission
GPO Box 9827
Brisbane QLD 4001

Report misconduct to ASIC
Do you have information about possible misconduct occurring in an organisation or activity that ASIC regulates?
Find out how to report misconduct
Report a scam
If you've received an email claiming to be from ASIC and are unsure of its authenticity, visit 'Scams targeting ASIC customers' for more information.
Report an issue with our online services
If you are having difficulties using ASIC Connect or other online services to complete specific tasks you can report the issue.
For current and planned system outages see our service availability page.
Feedback on our website
For website content issues (including broken links) or to make general comments and suggestions about usability email feedback@asic.gov.au.
Note: This address is not for general enquiries about our services. We suggest asking us a question online instead. We also cannot respond to complaints about ASIC or reports of misconduct sent to this address.
Make a complaint about ASIC
We respect your right to complain about our services, actions, decisions or staff and will treat your complaint seriously and confidentially. Find out more about lodging a complaint about ASIC.
Related links