Illegal phoenix activity
Illegal phoenix activity involves creating a new company to continue the business of an existing company that is deliberately liquidated to avoid paying taxes, creditors and employee entitlements.
Directors involved in this activity transfer the assets of the existing company to the new company without paying fair or market value, leaving any debt with the existing company.
After transferring the assets, the director usually places the existing company in liquidation, leaving no assets to pay creditors.
The new company continues the business. It is often managed by the same directors and operates in the same industry. By engaging in this illegal practice, directors intentionally avoid paying debts owed to creditors, employees and statutory bodies (e.g. the Australian Taxation Office).

Illegal phoenix activity can involve serious criminality, including breaches of director's duties or fraudulent concealment/removal of assets under the Corporations Act 2001. Penalties include large fines and imprisonment for company officers (directors and secretaries).
What is illegal phoenix activity?
The key difference between a legitimate business rescue and illegal phoenix activity is the director's intentions to avoid paying debts and liabilities.
Illegal phoenix activity severely impacts those owed money and gives these business operators an unfair competitive business advantage.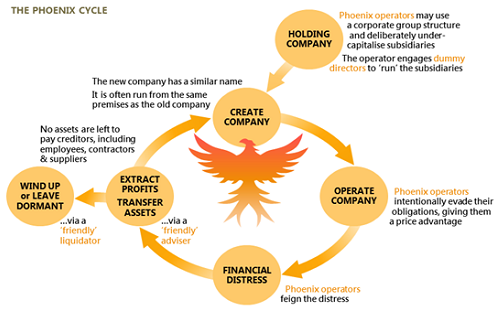 Not all company failures involve illegal phoenix activity. Genuine company failures do occur. Where directors responsibly manage a business but it fails, that business may continue after liquidation under another corporate entity without, necessarily, involving illegal phoenix activity.
Key characteristics of illegal phoenix activity can include:
the company fails and cannot pay its debts
sometimes the company changes its name to its Australian Company Number (ACN) and a new company is registered, often with a similar name to the old company
the directors or former directors engage in conduct that dishonestly denies unsecured creditors access to the company's assets – usually by transferring the assets from the old company to the new company for no consideration or less than the market value
the new company continues to manage the business by using some or all of the assets of the old company
parties involved in managing the old company control the new company – either as the directors or 'controlling minds'.
Key players can include:
Pre-insolvency adviser: Untrustworthy advisers maintain a network of 'friendly' professionals and encourage illegal phoenix activity, often by cold-calling companies in trouble. The pre-insolvency industry is not regulated and advisers can have varying qualifications and experience
Valuer: A 'friendly' valuer provides a low valuation for the company's assets
Liquidator: A 'friendly' liquidator who avoids their responsibilities (for example, by not investigating, recovering assets or reporting their findings to ASIC and creditors)
Dummy directors: The new company operators may include relatives/associates or someone with no knowledge of the company, who is often referred to as a 'director for hire'
Phoenix operator: A 'controlling mind' who evades tax and other obligations through the deliberate liquidation of related corporate trading entities. This behaviour is often systematic and cyclic
The law holds each of the key players equally responsible and may be subjected to the same penalties if it is proved that they aided, abetted, counselled or procured a director to engage in illegal phoenix activity.
Impacts of illegal phoenix activity
Illegal phoenix activity has far reaching implications, impacting the business community, employees and contractors and the government. Where tax avoidance occurs and government revenue is lost, illegal phoenix activity impacts the entire community.
Three Phoenix Taskforce member agencies (the ATO, ASIC and the Fair Work Ombudsman) commissioned PricewaterhouseCoopers (PwC) to measure the impacts of illegal phoenix activity.
The 2018 report – The Economic Impacts of Potential Illegal Phoenix Activity – estimates the economic impact of illegal phoenix activity on business, employees and government.
Combatting illegal phoenix activity
ASIC and other government agencies work together to deter, disrupt and detect directors and others who engage in illegal phoenix activity. 
ASIC uses a number of regulatory strategies to disrupt it, including proactive surveillance on companies, directors and professional facilitators; implementing compliance programs and taking administrative, civil and criminal enforcement action.
These strategies aim to deter directors and facilitators from engaging in illegal phoenix activity, hold them accountable if found to have breached the law and protect creditors, employees, consumers and government revenue.
Read our 2017-18 business plan for more information about our work to combat illegal phoenix activity.
Taskforces: whole-of-government approach
Key government agencies, including ASIC, work together through the Phoenix Taskforce and Serious Financial Crime Taskforce to reduce and deter illegal phoenix activity.
The Phoenix Taskforce uses data matching tools to identify, manage and monitor suspected illegal phoenix activity.
ASIC's approach involves:
sharing information to identify and take action against directors, advisers and facilitators that engage in illegal phoenix activity
engaging with key stakeholders on surveillance, enforcement and policy advice to detect, understand and respond to illegal phoenix activity
disrupting the activities of, and taking action against, untrustworthy advisers who assist directors engage in illegal phoenix activity.
Recent outcomes
Company directors
A company director engaged in phoenix activity by transferring the business of an indebted company to a new company, leaving the initial company with no assets to pay creditors while continuing what was essentially the same business using the new company. ASIC disqualified him from managing companies for the maximum period of five years. Read the media release.
A company director used tax debts collected on labour hire costs to continue trading companies instead of remitting the debt to the Australian Taxation Office. ASIC banned him from managing corporations for three and a half years. Read the media release.
A director of a distribution business was found to have engaged in illegal phoenix activity after he transferred the assets of an indebted company to a new company, leaving insufficient assets to pay creditors. ASIC banned him from managing corporations for four years.  Read the media release.
A franchisee was convicted of fraudulent activity after she transferred plant and equipment and reassigned leases from one company to another, which meant that creditors may have been denied access to the company's assets. ASIC banned her from managing corporations for five years. Read the media release.
Business advisers
A turnaround business adviser aided a director to dishonestly use their position as a company director to conceal the actual ownership of company assets from the liquidator appointed to their company. Read the media release.
Liquidators
ASIC accepted an enforceable undertaking from a liquidator after they failed to adequately investigate potential illegal phoenix activity. Read the media release.
ASIC had concerns about two liquidators who allegedly failed to report to ASIC suspected shadow directors and offences underlying suspected illegal phoenix activity. Read the media release.
Example
Sample Homes Pty Ltd is a company operating in the building and construction industry. Like many businesses, Sample Homes uses other companies or contractors to complete its projects. Read more.
Phoenix law reform
We also work with Government on potential law reform measures to deal with illegal phoenix activity, including those proposed in 2017.
Read more about the proposed reforms
How we handle reports of misconduct
Various entities affected by the illegal phoenix activity lodge reports of misconduct with ASIC. These include trade creditors, employees, liquidators and government agencies, including the ATO and FWO.
We rely on liquidators' statutory reporting to ASIC about illegal phoenix activity. If you are concerned about such conduct, the best course of action is to contact the liquidator where one has been appointed: see Report 558 Insolvency statistics: External administrators reports (July 2016 to June 2017).
Generally, we do not act on behalf of individuals to help them recover lost money, including money lost through illegal phoenix activity. You should seek advice about your own remedies.
While ASIC does not take action in every instance of alleged misconduct, we do take action where it will likely result in greater market impact and benefit the public more broadly (see Information Sheet 151 ASIC's approach to enforcement for full details of what we consider in deciding whether to take action).
Where to go for help
The Government is committed to preventing phoenix abuse and assisting victims. There are a number of ways to get help.
ASIC
Australian Tax Office   

If you worked for a company now in liquidation, ASIC can provide advice on whether you are an unsecured creditor of the company and wish to make a claim against your employer.

Find out more:

The ATO can assist you with chasing lost or unpaid super. We can also provide advice on what to do if you have been a victim of phoenix or you can report suspected phoenix companies to us.

Find out more:

Call 13 10 20 for superannuation enquiries
Call the Phoenix Hotline 1800 807 875 for phoenix enquiries
Department of Jobs and Small Business   
Fair Work Ombudsman

The Department of Jobs and Small Business administers the Fair Entitlements   Guarantee (FEG). This may help you claim unpaid employment entitlements if   you lose your job due to liquidation or bankruptcy of your employer.

Find out more:

 

The Fair Work Ombudsman can assist you with advice about minimum wages and conditions of employment.

Find out more:

 
More information
Reports
Articles and presentations