InFocus September 2022 - Volume 31 Issue 6

New director ID demonstration video
Australian Business Registry Services (ABRS) has published a new director identification number (director ID) demonstration video, which takes directors through the steps they need to apply for their director ID online.
If a person wants to become or is a director of a company registered with ASIC or the Office of the Registrar of Indigenous Corporations (ORIC), they are now required by law to apply for a director ID.
Existing directors have until 30 November 2022 to apply, while new directors must apply prior to appointment.
All directors are strongly encouraged to apply online now and beat the rush. The fastest and way to apply for your director ID is online using the myGovID app to log in to ABRS online.
Over 800,000 directors have successfully applied, with close to 90% of directors applying for their director ID online, receiving their director ID instantly. 
ABRS is responsible for delivering the director ID initiative. ABRS is administered by the Australian Taxation Office.
The Australian Securities and Investments Commission (ASIC) is responsible for enforcing related offences.
Encourage your director clients to watch the 'How to apply for a director ID' video and find more information about who needs to apply and when, on the ABRS website.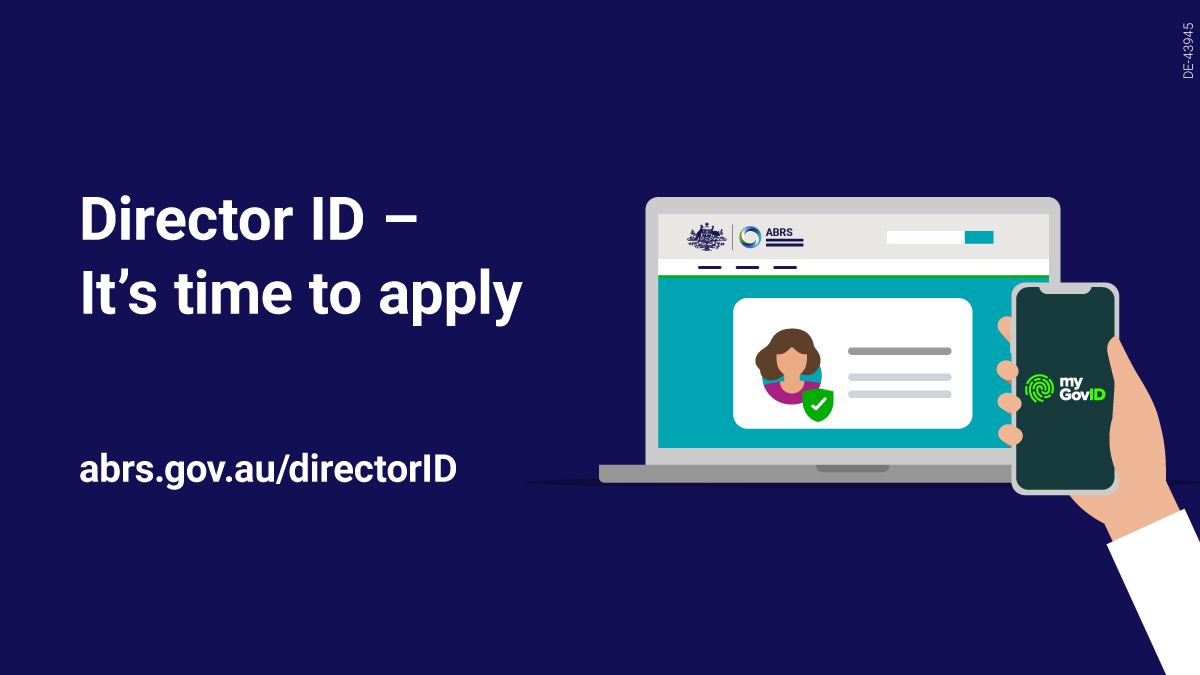 Extension of time for unlisted entity financial reports
ASIC has extended the deadline for unlisted entities to lodge financial reports by one month for balance dates from 24 June 2022 to 7 July 2022 (inclusive) due to COVID-19 impacts.
ASIC will consider relief for other entities and balance dates on a case-by-case basis, as appropriate. 
Where possible, entities should continue to lodge within the normal statutory deadlines, having regard to the information needs of shareholders, creditors and other users of their financial reports, or to meet borrowing covenants or other obligations.
Find out more information about the extension of reporting deadlines on our website.
Industry funding - submit your industry funding annual return now!
A reminder that many entities regulated by ASIC can now submit their industry funding annual return online using the ASIC Regulatory Portal. Industry funding annual returns must be lodged before Tuesday 27 September 2022.
ASIC has sent correspondence to each impacted regulated entity with instructions on how to submit their industry funding annual return.
Regulated entities that have not created an ASIC regulatory portal account will receive correspondence to the registered office address, including a unique 'security key', which is needed to create an account. If you did not receive your correspondence during July/August, see our FAQ's in the ASIC Regulatory Portal for other ways to register and log on.
For more information on industry funding, visit our website. 
ASIC warns small business to be vigilant about payment redirection scams
ASIC urges small businesses to be wary of payment redirection scams as the latest Targeting scams report from the Australian Competition and Consumer Commission (ACCC) showed that these scams caused the highest losses to businesses in 2021.
Payment redirection scams involve scammers impersonating a business or its employees via email and requesting an upcoming payment be redirected to a fraudulent account.

Read more on our website.
New ATO small business tax time toolkit
The ATO has updated its small business tax time toolkit for 2022.
There's an updated directory of links to useful information to help your business, as well as fact sheets on claiming tax deductions for home-based business, motor vehicle, travel and digital product expenses, using business money, and pausing or permanently closing your business.
For more information, visit ato.gov.au/SBtaxtimetoolkit.
ASBFEO urges small businesses to take urgent action to safeguard internet identity
The Australian Small Business and Family Enterprise Ombudsman (ASBFEO), Bruce Billson, has implored small businesses to take urgent action to safeguard their brand and identity on the internet or risk seeing impersonators, web-name 'campers' or cyber criminals take up domain names just like theirs.  
A domain name gives online businesses a unique electronic address. Anyone with an Australian presence (including businesses, organisations and individuals) can now register a new category of domain name, known as .au direct.
Holders with an existing domain name licence have been provided priority to register the .au direct equivalent of their domain names until Tuesday 20 September 2022, after which domain names that have not been allocated will become available to the general public.
Read more on the ASBFEO website.
Minimum wage increase and free webinars offered by the Fair Work Ombudsman
From the first full pay period on or after 1 July 2022, the new National Minimum Wage for employees who are 21 years or over is $21.38 per hour, or $26.73 for casual employees.
Most award wages increased from the first full pay period on or after 1 July 2022. For some awards in the aviation, hospitality and tourism industries, the increase will happen from 1 October 2022.
You can use the Fair Work Ombudsman's (FWO) Pay and Conditions Tool to check minimum pay rates and visit its subscription centre to sign up for email updates.
The FWO also offers free webinars on a range of topics for different audience groups. You can find out about the FWO's free upcoming webinars at www.fairwork.gov.au/webinars.